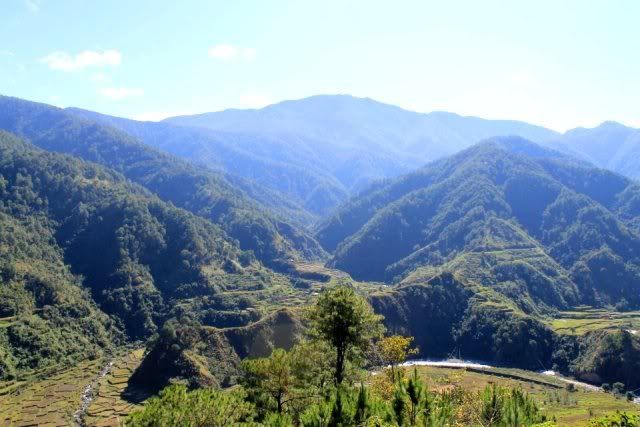 view from the Halsema highway
MOUNTAIN INFORMATION
Mt. Kalawitan in Sabangan, Mountain Province is listed as the 10th highest mountains in the Philippines, estimated to rise at 2,714 meters above sea level. The recorded elevation is supposedly higher than that of Mt. Amuyao, and since the measurements did not come from same altimeter/GPS then it is hard to say that it's official.
Climbing season
Along the trail in Asoan Pine Forest there were uprooted and burnt trees, which appeared to be struck by lightning. Just like in Mt. Fuji (Japan) and Mt. Yushan (Taiwan) among others, Mt. Kalawitan has its own hiking season. It is mostly closed to climbers during the typhoon season or months of July-November because of the danger in the Asoan pine forest that was frequently hit by lightning.
fallen trees at Asoan forest
Culture and History
According to one of the guides (Ronald), the word Kalawitan comes from the word "kalawit" or hook. It originated from the Sabangan – Kankana-ey's ancestors who used to climb the mountain by hooking their arms on the trees, back when there was no established trail in the area.
It was also believed that there was once a mountain god named Lumawig who had three giant snakes. The 3 snakes convened about leaving the mountain, but before they had the chance the god Lumawig, who feared that many people will die when the 3 snakes leave the mountain, turned them into 3 rivers that flows around the mountain namely the Chico River, Kapangdanan River, and Dilikey River.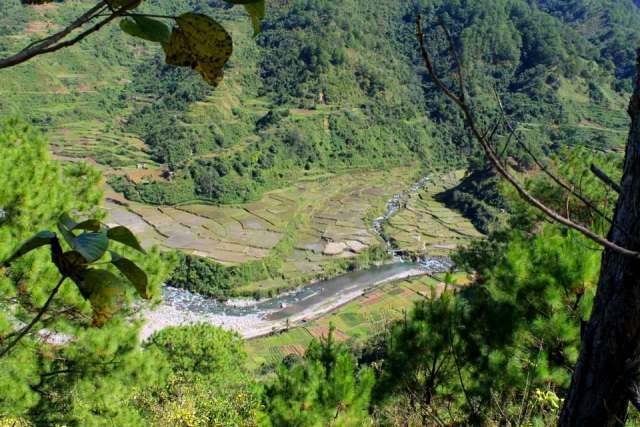 where Chico river meets Kapangdanan river
For more of legends of Lumawig: http://reocities.com/Heartland/ridge/5484/myths06.htm
Today, it was prohibited to bring fish goods up in the mountains. The locals feared that the rivers would dry up when fish in any form reaches the mountain. (The uninformed blogger is guilty of bringing fried bangus as packed lunch)
ACTUAL ITINERARY
Friday, Jan 20
0830 ETD Victory Pasay onboard bus bound for Baguio
Saturday, Jan 21
0345 ETA Victory Baguio, ride cab to Dangwa bus terminal
0400 ETA Dangwa bus terminal, breakfast in Good Taste
0530 ETD Dangwa bus terminal onboard van to Mankayan
0750 ETA Abatan, buy supplies
0820 ETD Abatan onboard going to Bontoc
0945 ETA Panorama Viewpoint, Sabangan
1100 Lunch at KAFILIG Coffee Shop
1230 Start trek to APA Campsite
1415 ETA APA Campsite, rest and explore the area
1830 Dinner
2030 Lights off
Sunday, Jan 22
0300 Wakeup call
0530 Start trek
0600 ETA Asoan Pine Forest
0730 ETA Mossy Forest
0850 ETA Hunter's Tent (watersource); rest
0910 Resume trek
1120 ETA false summit (viewdeck); quick lunch
1135 Resume trek to summit
1220 ETA dwarf bamboo forest
1235 ETA Mt. Calauitan summit, rest
1315 Start descent
1530 ETA Hunter's Tent, rest
1550 Resume the descent
1630 ETA Asoan Pine Forest
1800 ETA Apa Campsite, rest
1930 Dinner
2130 Lights off
Monday, Jan 23
0400 Wakeup call, breakfast then breakcamp
0745 Start trek to Halsema Highway
0845 ETA Hanging Bridge, rest
0915 Resume trek
1000 ETA Halsema Highway
1015 Trek back to Councilor Ernest's house
1230 Lunch
1400 Bus to Baguio
1900 ETA Baguio; internet rental
2045 ETA Victory Liner Baguio terminal; buy tickets
2245 ETD bus to Cubao
Tueday, Jan 24
0345 ETA Cubao
0430 Home sweet home
HOW TO GET THERE: Manila – Baguio
Bus to Baguio
– the most common choice of bus transport to Baguio is Victory Liner. You can choose an origin to your convenience. They have terminals in Pasay and Cubao, two of the busiest VL stations. If you plan on heading up north in time for a long weekend, make sure to buy tickets ahead as there's a sudden influx of would-be travelers during these times.
You can contact them at (tel number). Bus fare ranges from php450-460 depending on your point of origin.
Van to Baguio
– as an alternative transport you can take a van to Baguio if you fail to book a bus seat. There are parked vans outside the VL terminal in Cubao. One downside of riding a commuter van is how it can get really cramped inside especially if you have large packs… so be prepared for a very uncomfortable ride. This mode of transport though is faster than the bus, took me around 5 hours to get to Baguio last June 2009. Fare was around Php500 from Cubao.
Baguio – Sabangan
Bus to Sabangan
: to get to Sabangan from Baguio you need to ride a bus bound for Bontoc. There are a number of bus franchises that plies the route Baguio – Bontoc. To name a few:
1. Dangwa – terminal beside Center Mall
2. Lizardo - terminal beside Center Mall (first trip was 7:00am)
3. D'Rising Sun – terminal in Slaughter (first trip was around 6:30)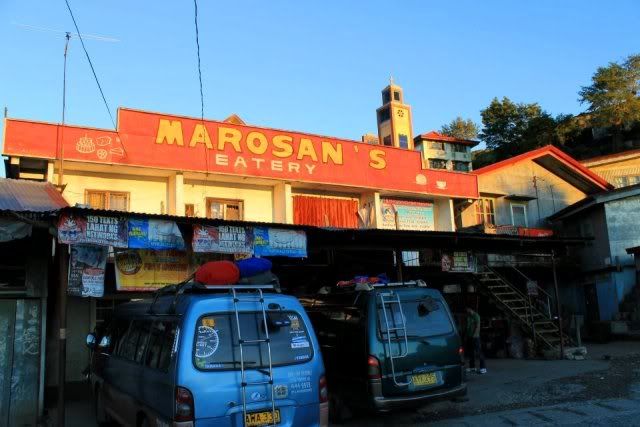 during one of the morning stop-overs in Sayangan (Km50)
Van to Abatan, Van to Sabangan
: if you arrive too early in Baguio and wish to depart early, you can cut trips and take the van ride to Mankayan and alight in Abatan where a number of van going to Bontoc are also waiting. The ride to Abatan usually has a stop-over in Sayangan (Km50). There were a lot of stores in Abatan where you can do last-minute purchases.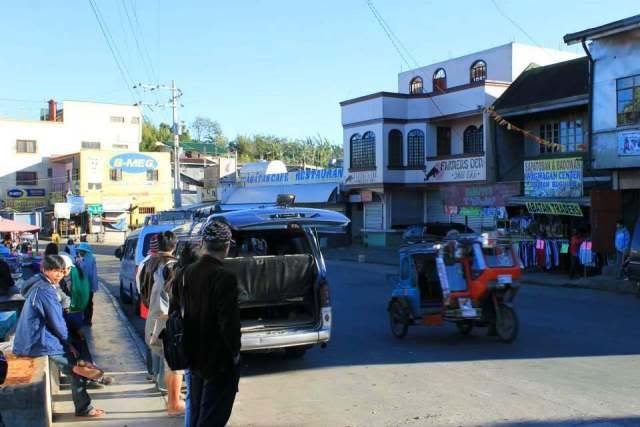 Bontoc van terminal in Abatan
Manila – Bontoc - Sabangan
Bus to Bontoc
: Cable bus tours operates buses to and fro Bontoc. Their terminal is in Sampaloc, Manila. For more information please contact 09185216790.
Bontoc to Sabangan
: there are vans that ply the Halsema road from Bontoc and passes by Sabangan.
THE JUMPOFF and BASECAMP
KAFILIG Coffeeshop
KALAWITAN AGRO FOREST LIVELIHOOD & INFORMATION GROUP
(KAFILIG)
is an NGO association founded by the locals of Sabangan. The coffeeshop is located at the Halsema Highway in between the Upper and Lower Sabangan in a place called Panorama Viewpoint, as the area offers a very scenic panorama of the Lower Sabangan, Chico River and the hanging bridges, rice terraces and the majestic Mt. Kalawitan range.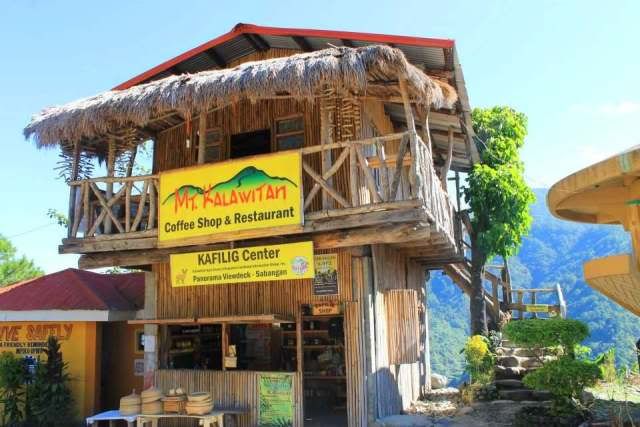 KAFILIG Coffeeshop in Panorama Viewpoint
They have limited choices in their menu which is mainly composed of what else but coffee, pancakes and sandwiches. They also offer lunch menu.
Below the coffeeshop is a souvenir store selling the local produce of Sabangan like woven products, Sabangan coffee, jams, vinegars, and handicrafts.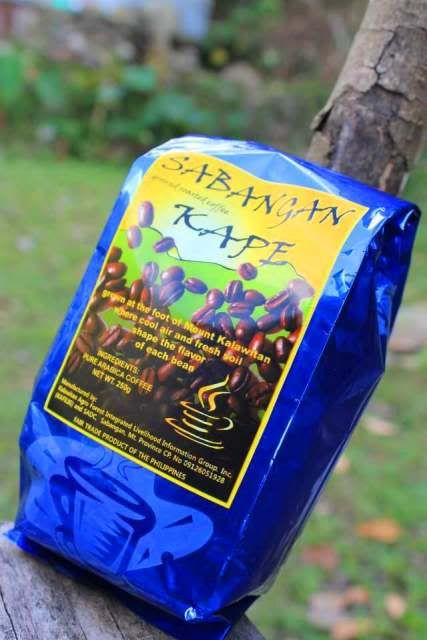 Sabangan-produced coffee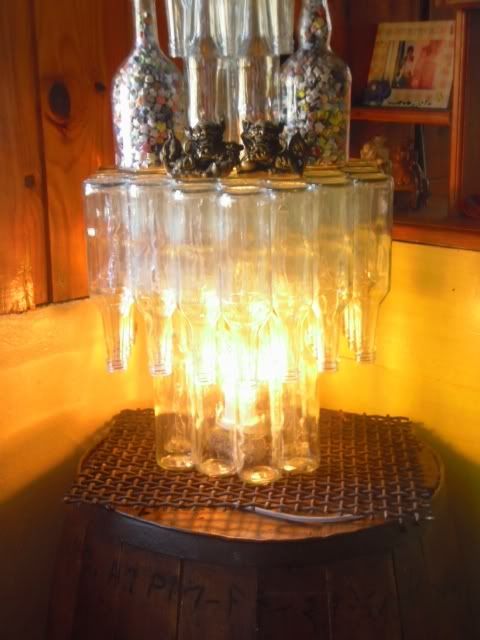 lampshade from recycled empty bottles of kwatro kantos
This place is the usual meeting point for the visitors and the guides.
APA Campsite
Barely two hours from the KAFILIG Coffeeshop and the final destination of the first leg of the trek, Apa Campsite serves as the basecamp for those scaling Mt. Kalawitan and those who just would like to experience nature camping.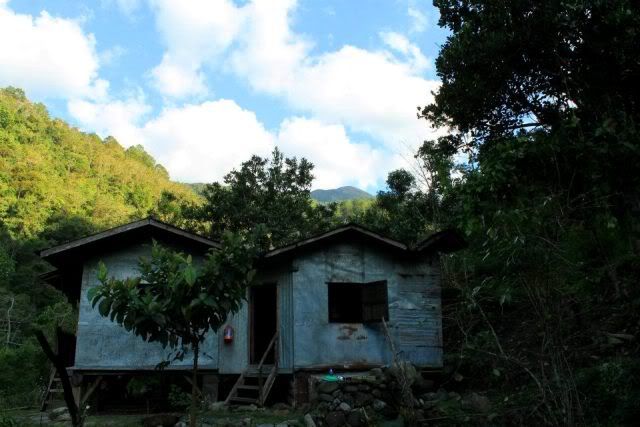 basecamp and Mt. Kalawitan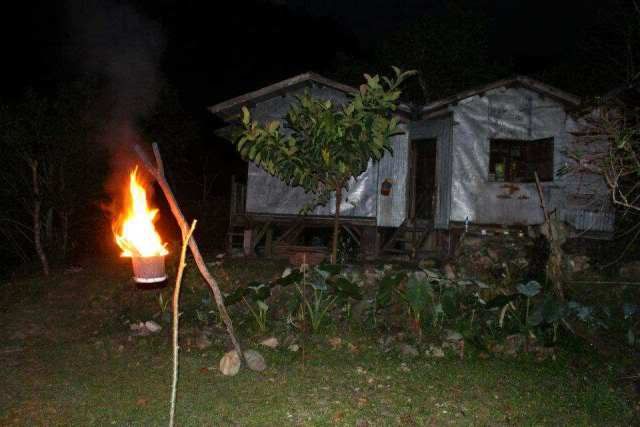 basecamp at night
According to Sabangan Councilor Ernesto Bondad, the name Apa originated from the word "umapa" which means "to have landed". It was held that long time ago a swarm of locusts infested Lower Sabangan fields, and when some villagers followed the locusts it landed in the present-day Apa Campsite.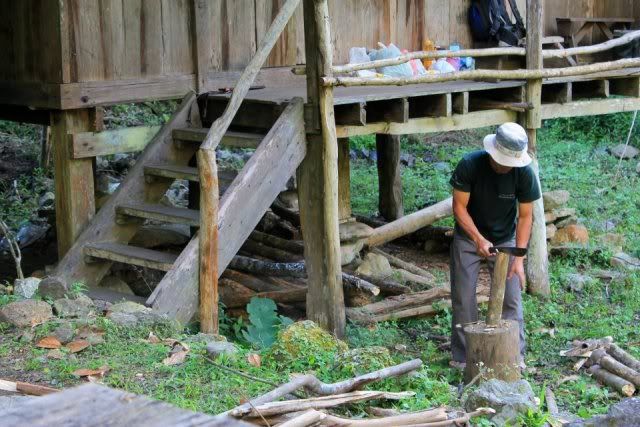 fallen pine woods are best for bonfires
During the Japanese invasion of the Philippines in WW2, Apa Campsite served as an evacuation center for the Sabangan locals when their village was bombed by the Japanese. Today, Apa Campsite is open to camping visitors.
hut for the guides
There were 3 huts in the camp, two for the visitors and one for the guides. In line with the conservatism of the locals, they try to practice gender segregation in sleeping quarters. The girls stay at the main hut right in front of the guide's hut while the boys stay at the upper hut a few meters away.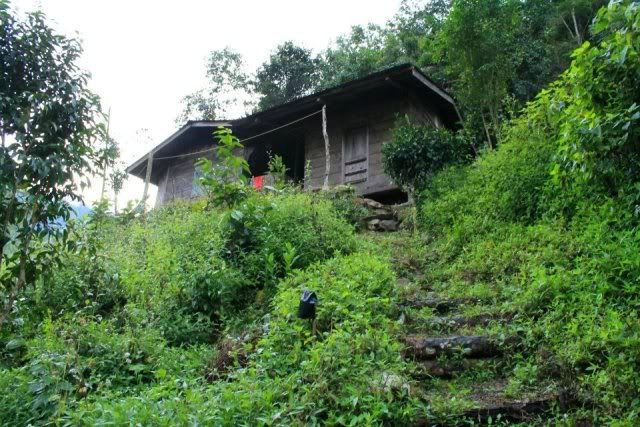 men's quarters in times of gender separation in accommodation
The huts have clean restrooms with toilet papers and warm, thick blankets were also provided along with floor mats. Cooking is mostly done by the guides outside where a huge bonfire is being kept aflame during wee hours of morning and at night. Potable running water is abundant in the campsite, sourced out from the nearby Kapangdanan river. There's also a very wide camping ground in between the huts, and another wide ground a few meters away.
The place is infested by insects called nik-nik, so prepare to have repellants.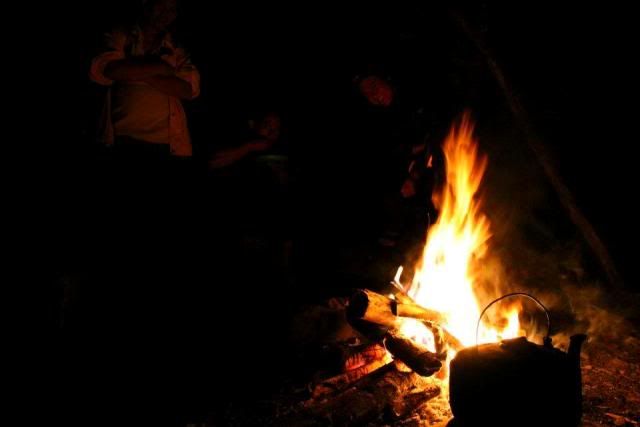 bonfires are comfort in cold nights
THE TRAILS AND SIGHTSTrek to Apa Campsite
From KAFILIG Coffee shop, you will descend a steep, almost-100meter trail alternating of soil and concrete steps. You will enjoy the scenic view of Chico River and the rice terraces.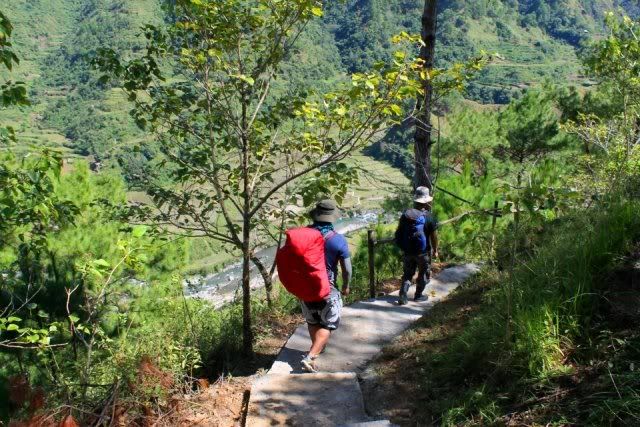 concrete steps
Upon arriving below the highway and at the level of the river, the trail consists mostly of walking on the concrete edges of the rice fields and hanging bridge crossing. The openness of the trail is compensated by the surrounding lush green pines and cool gushing water.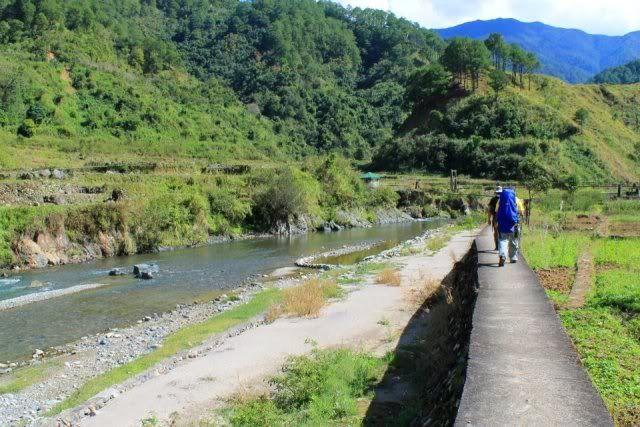 walking on edges of rice fields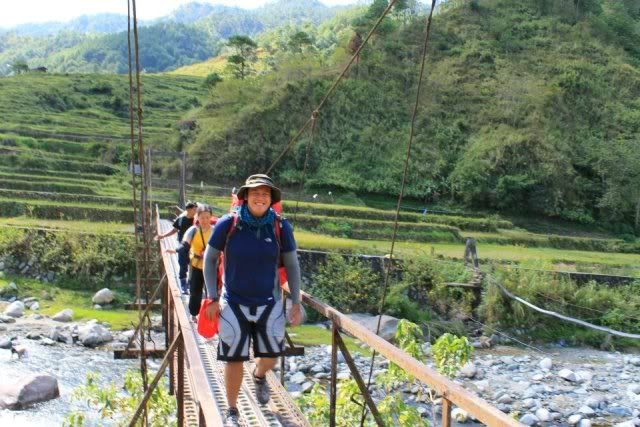 one of the hanging bridges over Chico River
Into the depth of the forested trail you need to cross Kapangdanan River to Apa Campsite. Most of the trek involved walking in steep and possibly slippery footpaths.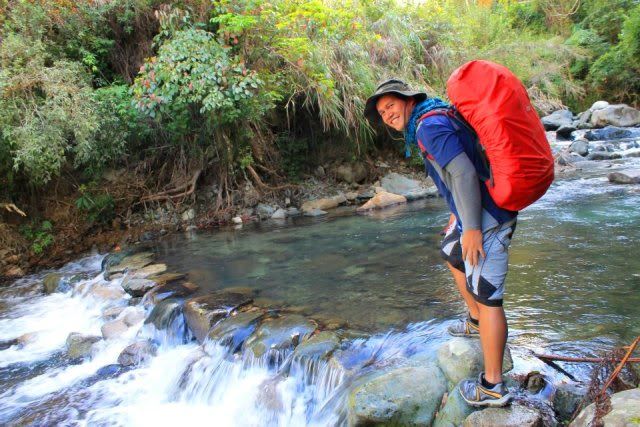 crossing Kapangdanan river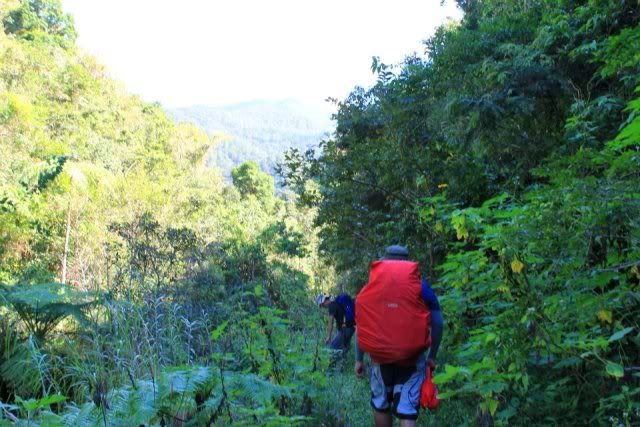 final leg to Apa Campsite
In the return trek to Sabangan, the guides have the option to trek on the peaks down to Chico River hanging bridges. This offers a very scenic view than the trail beside Kapangdanan River.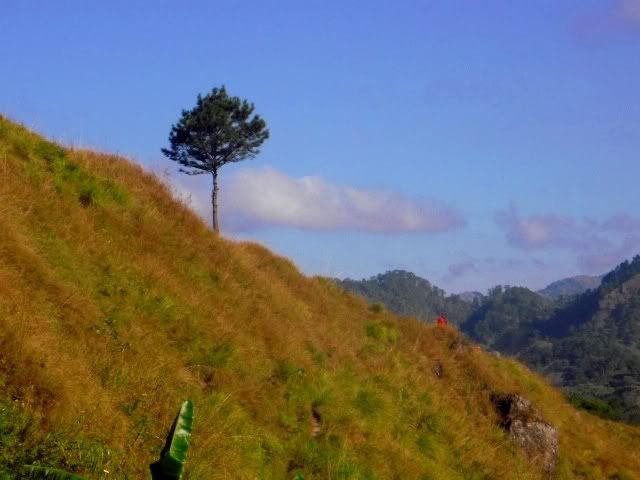 very scenic return trek; a trekpole is a must to keep your balance
Asoan Pine Forest
One of the featured scenery in a Mt. Kalawitan climb is the Asoan pine forest. The steep climb affords you one to two hours trek of pine forest scenery. This part of the trail is reminiscent of the Akiki trail of Mt. Pulag. It is a bit slippery during descent because of the pebbles and pine needles on the ground.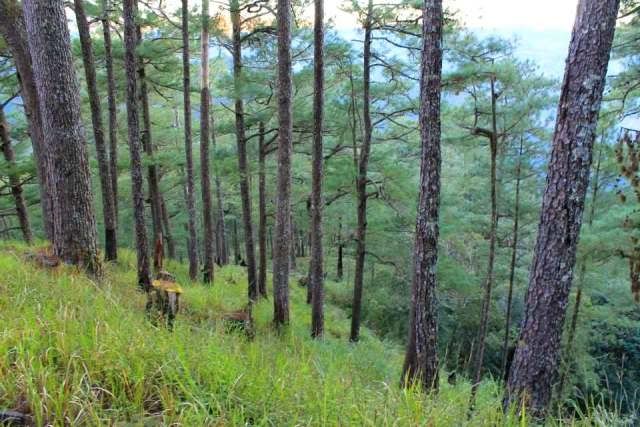 Mt. Kalawitan's very own killer trail
Asoan is also considered a deity by the pagan Sabangan of the olden days. Asoan came from the word "aso" meaning hunt, therefore "asoan" means hunting ground. With the steepness of the trail and thin vegetation will make one wonder if there are really roaming wild animals here. At the end of the trail where Asoan meets the mossy forest, there were tree signs that indicate nearby animal traps.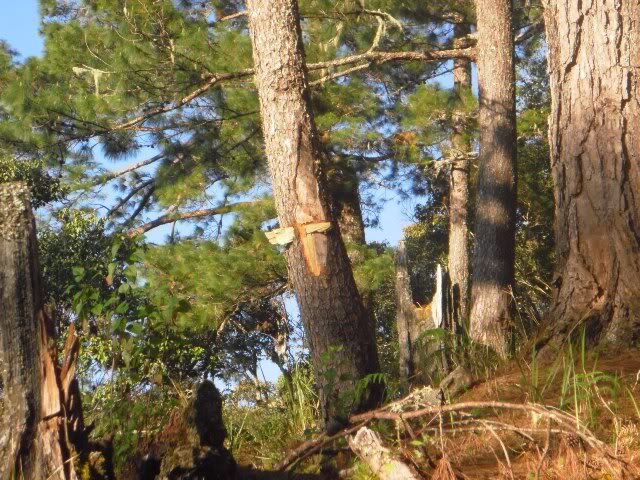 trap signs
There were different kinds of animal traps used by hunters of Mt. Kalawitan, to name a few:
1. gun-bearing traps – where a string is attached to the gun trigger; when wild animals moved the strings, it would automatically pull the trigger. I was told by one of the guides that the bullets used here were those of a shotgun. One time a hunter's dog was killed by this kind of trap.
2. ground holes – a deep hole is dug out and covered with grasses; mainly used for wild boars.
3. small circular ropes – setup on trail which intends to catch wild animals by the neck; mainly used for bayawaks and wild chicken (labuyo)
Mossy Forest
After the almost 2 hour ascent from basecamp, you will enter the "mossy forest". It was kind of a misnomer since you will not see mossy trees until you went past the "false" summit. The trail boasts of a cool trek inside a lush green forest. You can still see trap signs here. The trail alternates from being wide to single-file narrow. Difficulty here is moderate, but you get to feel that heaviness in your feet which makes it hard to walk.
mossy forest right after Asoan pine trail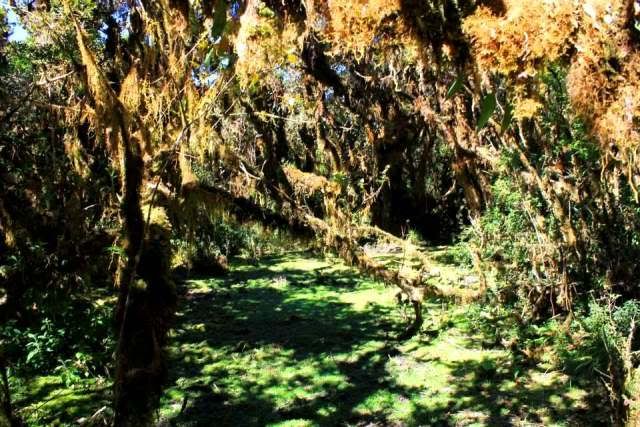 super mossy forest before the summit
Hunter's Tent
This structure marks the first half of the trek. It is well around 1,920masl. At this site, you will hear gushing water, which is the only water source during the climb. This can also serve as ecamp, as the hunters use this as resting place and as night accommodation during their visits to their traps.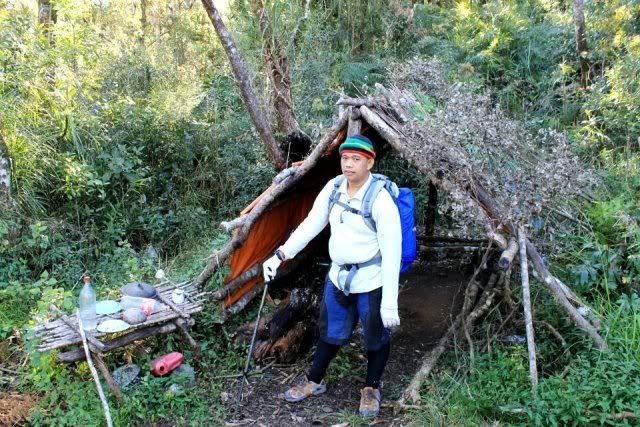 can be an ecamp halfway to the summit
False Summit
With only an hour more before the summit, this open area/viewing deck affords you of the profile view of the summit peak. From here you will walk an alternate of uphill and downhill grounds, with unbelievable mossy surroundings.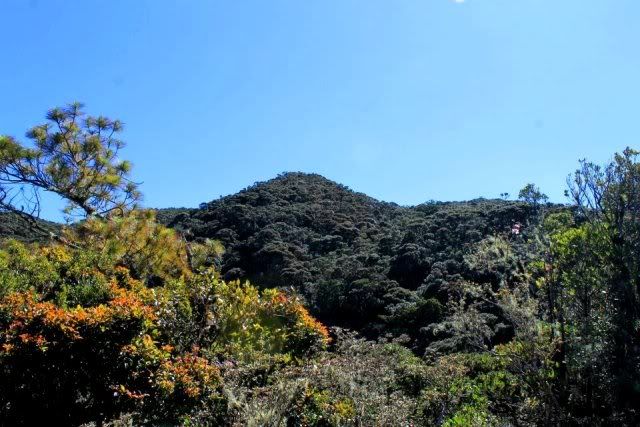 so near yet so far
Dwarf Bamboos
Swimming in the sea of dwarf bamboos is one of the most famous shots in Mt. Kalawitan. Most of these bamboos were stunted by the strong winds up there. It is also a viewing deck for the nearby mountains in Ifugao area.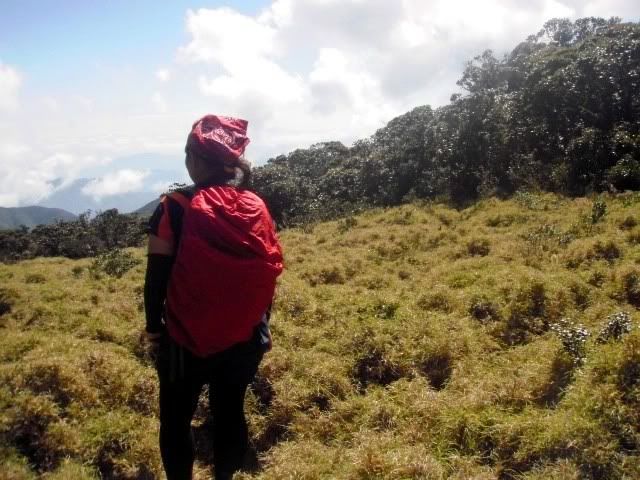 towering over the mightily dwarfed bamboos
The Summit
Barely without cover, the summit is marked by a great clearing with signages. The lone pine tree is reminiscent of the Mt. Kalatungan summit landmark. The signages were constructed by locals of Talubin, a town in Bontoc where it was said that another trail exists. So that's a possibility of a traverse, the problem is that the two merging trails are in the jurisdiction of two contesting parties… both of which are setting claims with Mt. Kalawitan.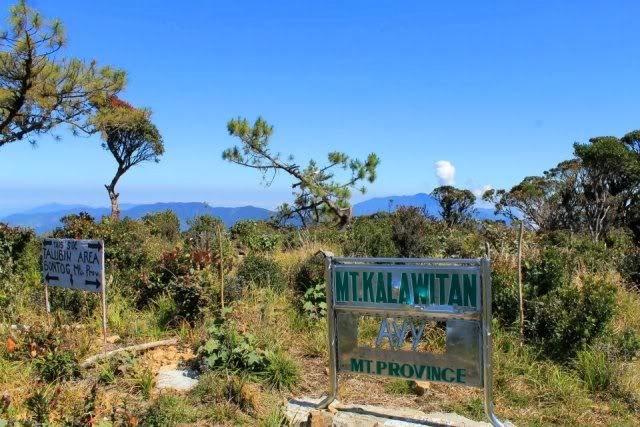 territorial markings of Bontoc locals
The view here is amazing on a cloudless day. It may not be 360-degrees, but enough to show you the major mountains in the area like Mt. Amuyao, Tirad Pass, mountains of Sagada, etc.
It is not permissible to camp at the summit, in an effort to preserve the mountain.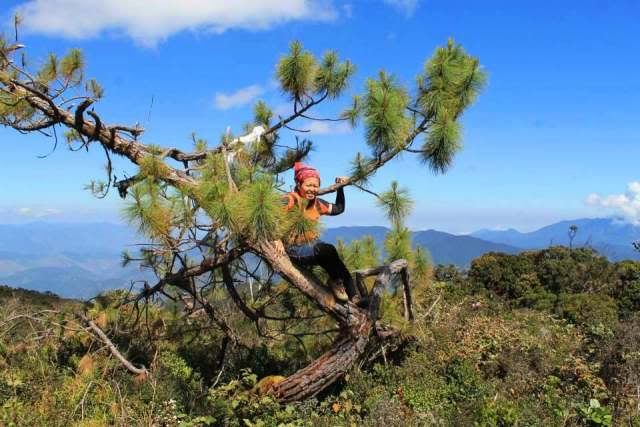 lone tree
LOCAL FOOD:
Included in the package that the Sabangan guides are offering are board meals from the moment of arrival to the departure. Here are the breakdown of the meals that they are serving:
Day 1 - Arrival
LunchDinner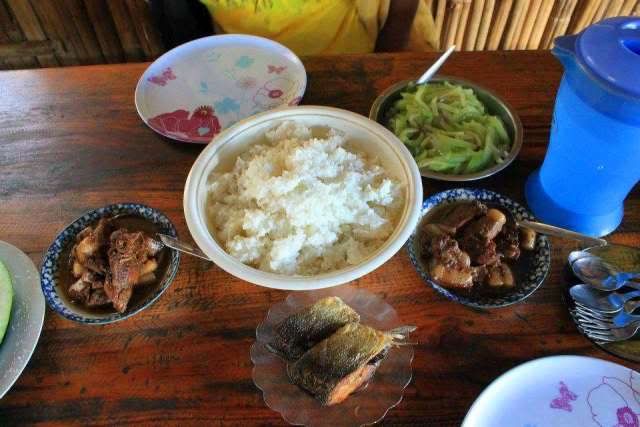 bangus fats... heavenly. sayote was sooo fresh
Day 2 – Climb proper
BreakfastLunchDinner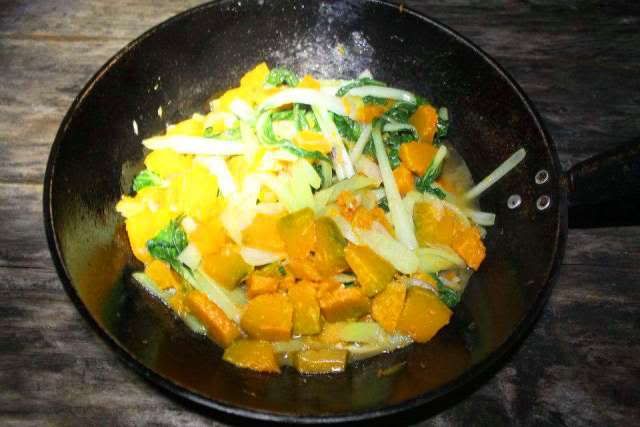 nomnom pechay and kalabasa
Day 3 – Going back to Sabangan proper/Halsema
Breakfast
Inform them of your food preference beforehand.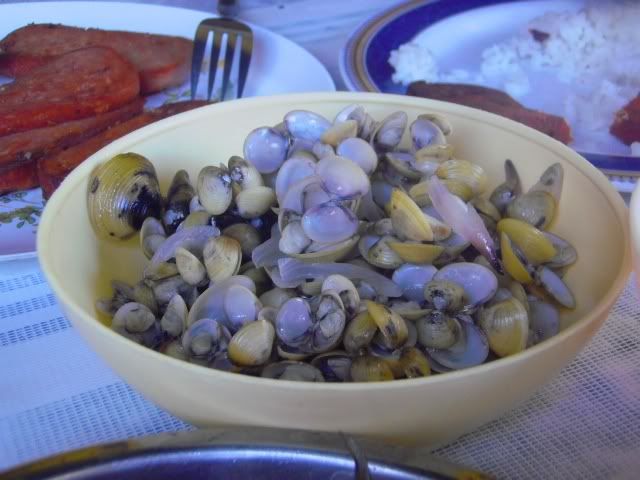 fresh from the rice fields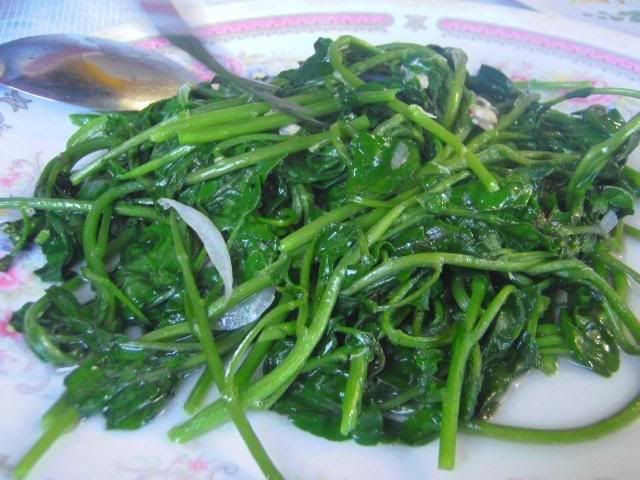 water cress as pointed out by our guide
ESTIMATED DAMAGES: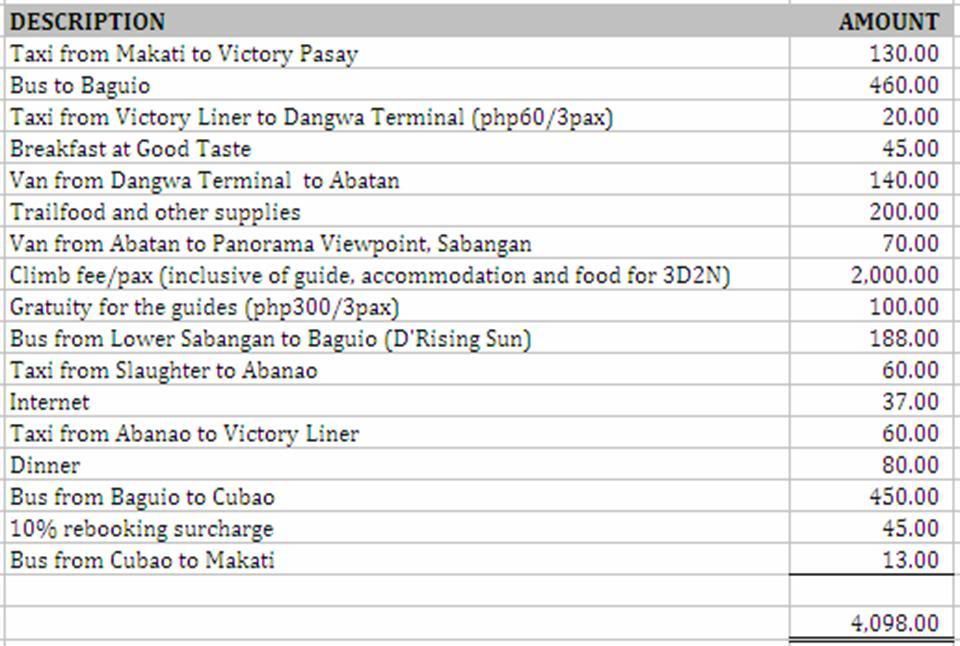 as of January 2012 climb
RULES FOR VISITORS:
There's a set of rules posted in the Apa Campsite webpage to guide the future visitors of Sabangan. Here's a copy:
Visitors are enjoined to explore Apa and Mt. Kalawitan in ways that are tuned to the culture at this place. The forests and grazing land around Mt. Kalawitan is a unique ecosystem. It is the habitat of many endemic and endangered species. The sustainable use of timber and other forest products is a traditional practice in Sabangan and provides livelihood for many people.

The rivers and creeks in Apa and Mt. Kalawitan are the source of fresh and clear drinking water and water for irrigation for Sabangan all year round. Sabangan is proud to present itself Clean and Green. This is a result of constant efforts of the LGU, the Barangays, the schools and all residences.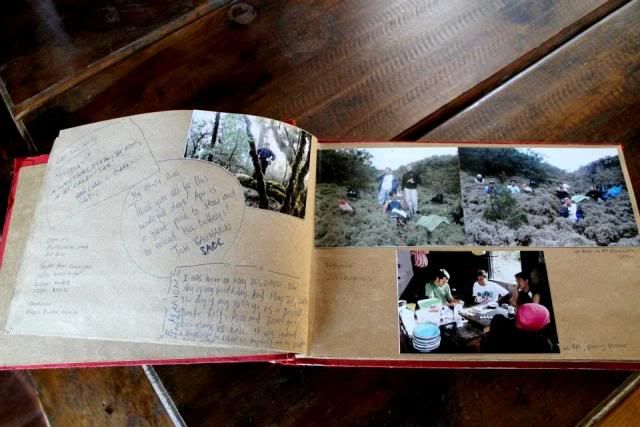 testimonials
1. Tourists are advised to hire a trained local guide for hiking to Apa Campsite, Mount Kalawitan or the Nambayo Falls and register themselves at the Tourism Officer in the Municipal Hall, at the Police officer of the day, the secretary of the Barangay Captains or at the authorized staff of the Panorama Viewpoint.
2. Tourists should inform the guides in advance if they bring their own pack lunch or if the guides should prepare for them.
3. Adhere to the Anti-Moma spitting ordinance of the Municipality
4. While in Sabangan, you are in indigenous ancestral territory, greet locals respectfully and give them right of way on the trails. In respect to the indigenous believes on the mystical mountain and streams, littering and vulgar behavior are discouraged in this place. There is a ban on fish products up in the mountain. Camping up in the mossy forests of Mt. Kalawitan is also not allowed.
5. Do not bring any firearms, explosives and prohibited drugs into the tourist sites - instead bring a smile to the faces of the people you meet.
6. Please strictly avoid vandalism and destruction of infrastructure.
7. Walk in single file on narrow trail, minimize the spread of impact by staying on the established trails.
8. Leave what you find. For your on safety, do not eat any unknown plants. The removal of plant samples and animals is a form of bio piracy and is prosecutable under Philippine laws. It takes nature many years to regenerate what humans can destroy in minutes or seconds. Take care not to introduce species that could alter the balance of the Sabangan ecosystem.
9. To prevent wild fires, camp fires and smoking are prohibited in the dry forests and grazing areas.
10. To avoid contamination of the clean, potable spring water, do all washing away from water sources and try to reduce the use of soap. Do not dispose any food or waste near the water. Bonfires close to bodies of water can cause pollution and contamination and are therefore prohibited.
11. To ensure that future visitor and generations of Sabangan residences enjoy what you experienced during your time here, leave as little impact as possible. Take all personal and group garbage with you.
12. Use the comfort rooms (CR/Toilets) along the way for all human waste and toilet paper.
13. Souvenir street vendors are discouraged. Good quality local souvenirs are available at the shops.
By registering yourself as a tourist, you automatically agree to these rules. Only experienced hikers can be accepted. Please comply to the rules and follow the instructions of the guides.
These rules have been formulated by the Sabangan Mountain Guides and were adopted by
the Municipal Tourism Council of Sabangan on November 22, 2010.
CONTACT PERSONS:
Mr. Francis Degay (Tourism Officer – Mt. Province) - 09486787290
Ms. Juanita Lampac (Tourism Officer – Sabangan) - 09085599300
Councilor Ernesto Bondad (Tourism Council – Mt. Calauitan) -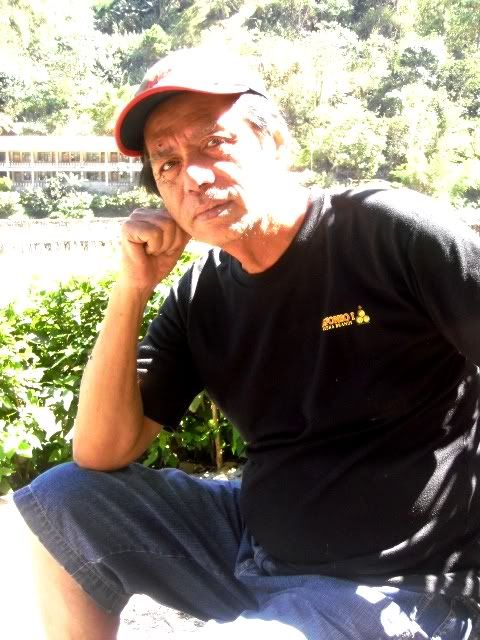 Councilor Ernest
SOURCES:
http://apacampsite.wordpress.com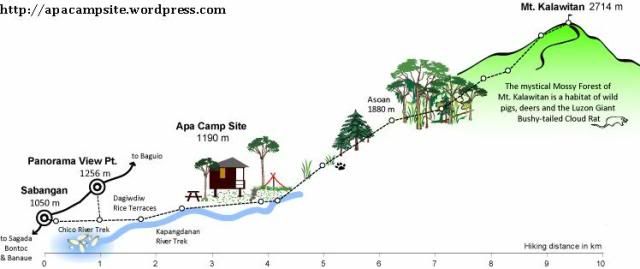 Mt. Kalawitan on a perspective
Picture credit: Ian Torres, apacampsite.wordpress