View from Sitio Civoleg: Pamalihi peak (false summit) to the rightmost
Mt. Balatukan forms one of the gargantuan ranges that pillars Misamis Oriental. This strato-volcano has an estimated elevation of 2,450masl (Wikimapia) and is considered as the highest peak in Misamis Oriental looming over the whole Gingoog City and nearby towns along the National Highway. The summit is called Rosas Pandan Peak, and there is an adjacent prominent peak the locals refer to as Pamalihi peak.
Mt. Balatukan jumpoff:
1. Sitio San Isidro/Jamboree campsite
2. Civoleg Communal
3. Brgy. Kalagonoy
4. Balingasag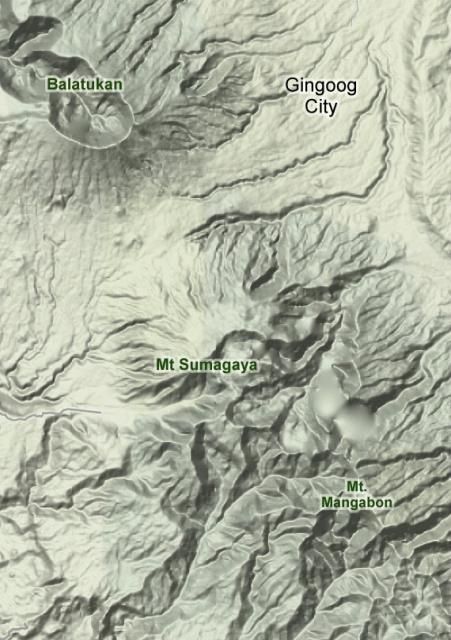 Mt. Balatucan and Mt. Lumot-Sumagaya range
Jamboree campsite is the most accessible of the 4 jumpoffs since this is a well-maintained and well-known park. Civoleg communal is in between Brgy. Lunotan central and Sitio San Isidro. You will pass by Brgy. Kalagonoy on your way from Gingoog City.
Suggested Itinerary
Day 1
1200 ETD CDO Agora Terminal
1430 ETA Gingoog City bus terminal, final preparation and last minute purchases
1600 Ride habal-habal to Sitio San Isidro, Brgy. Lunotan
1630 ETA Brgy. Lunotan Central, register with Kapitan Nelson, inquire for local homestay in Sitio San Isidro
1700 ETA Sitio San Isidro, proceed to local homestay
1900 Dinner
2100 Lights off
Day 2
0500 Wakeup call, preparation
0600 Start trek
0620 ETA Jamboree camp
1130 ETA Rosas Pandan Peak, lunch and rest
1230 Start descent
1600 ETA Jamboree camp
1615 ETA Sitio San Isidro, prepare things
1630 ETD Sitio San Isidro
1710 ETA Gingoog City
1730 ETD Gingoog City bus terminal
2000 ETA CDO Agora bus terminal
How to get there:
You can have several major start off points in going to Gingoog City, two of the most proximate is Cagayan de Oro and Butuan. Based on experience in checking flight prices, the plane fare is much cheaper going to CDO.
Bancasi Airport in Butuan is a good 1-1.5hours away from Gingoog City. This is a desirable entry point if you also plan to visit Mt. Mayapay, Butuan City's highest peak. You can book the earliest flight to Butuan City, head to Mt. Mayapay for a quick hike, head back to the terminal to catch the bus plying Cagayan de Oro and alight in Gingoog bus terminal within the same day.
The Trail
From Sitio San Isidro, you will walk a good 15 minutes of road trail to the Jamboree campsite within the Mt. Balatukan Natural Park. This is a project of Mayor Ruth L. Guingona, and annual Scout Jamboree is being held here.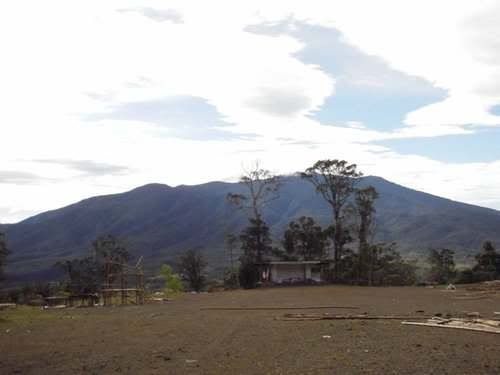 Jamboree campsite with Mt. Lumot range on background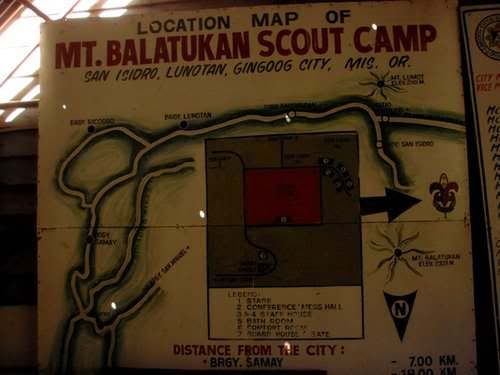 Jamboree campsite map
The Balatukan forest was very mossy after an hour or two of trekking, and it continues up to the "summit". The environ is very pristine. From the Jamboree campsite, you will trek on a ridge with a clear and established trail. There are markings on the trees for the tagging of the trees. The locals partially burn the tree's body for saps.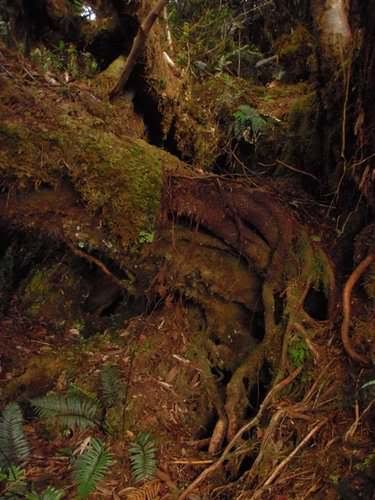 super mossy trail
There's a dried out falls that you will cross on your way to the Rosas Pandan Peak. At the summit, there's a marker paying tribute to a certain Joven Macatol of KAPLAG. There's also a cement marker labeled with landmarks for north, east south and west.
Mt. Balatucan – Rosas Pandan Peak "summit"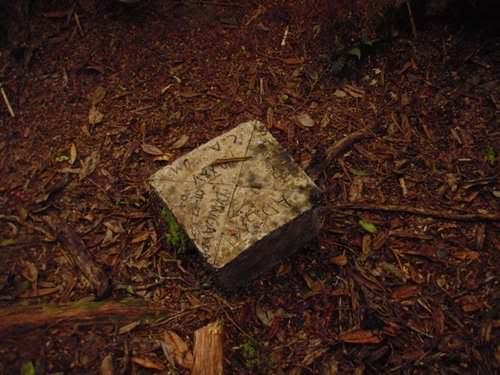 mysterious summit landmark
I was told by the guide that there's a traverse for Mt. Balatukan going to Balingasag, but it will take another day to do the traverse. You can also visit Mt. Pamalihi if you are doing a multi-day hike. There are small campsites available along the trail, and there's a watersource halfway to the summit.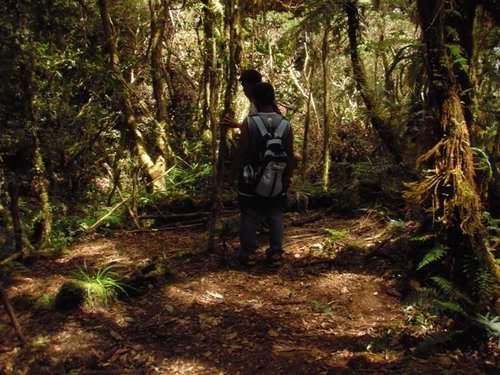 one of the small campsites along the trail
There are red ribbon tied up to the trees across the trail. Limatik is also present along the trail.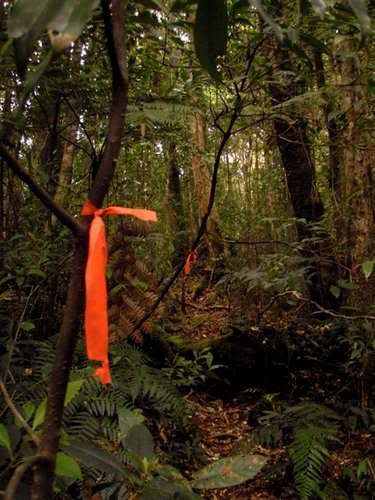 red ribbons are everywhere
negotiating the trail
shy but cunning limatik
Notes:
- coordinate with the military detachment before planning to ensure that there's no current military operation ongoing
- register first with the baranggay before proceeding with your climb
Contacts:
Kapitan Nelson (Brgy. Captain - Lunotan) – 09282271102
Kagawad Leoncio (Sitio San Isidro) - 09997644314
Sgt. Pondoyo (Military detachment - Sitio Civoleg) - 09391253395