Double or triple dayhikes had been becoming popular to climbers nowadays because of climb economy and the physical challenge it presents to the hikers. Famous double dayhikes proximate to Manila are Mts. Maculot-Manabu
(Cuenca/Lipa Batangas)
, Mts. Malipunyo-Manabu
(Lipa, Batangas)
, Mts. Sembrano – Tagapo
(Pililia/Binangonan, Rizal)
, and Mts. Talamitam – Batulao
(Nasugbu, Batangas)
among others.
Last September 2011, I finally had a chance to join the band wagon of the double-dayhikers. We failed to follow the itinerary because we intentionally grazed on the area, with lots of photo opportunities on hand. The weather was clear in the morning, and we didn't expect the worse turnout in the afternoon. We failed to do the traverse of Mt. Batulao, and instead just stayed in the registration hut and rested for a while. We had our picture taken with Ms. Janet Belarmino of the Pinay Everest Team, who has a vacation hut in Mt. Batulao campsite. Here is our intended itinerary for that day: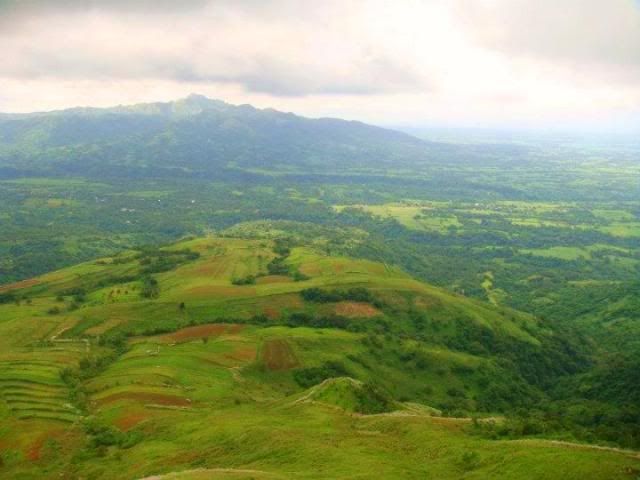 Mt. Talamitam fields, with Mt. Batulao's unmistakable ridges from afar
MT. TALAMITAM – MT. BATULAO Double Dayhike
Mt. Talamitam is famous for its 360 degrees summit view, which you will enjoy after an arduous climb on an open field. The trek usually takes 1.5hr – 2 hr on a normal pace. Mt. Batulao on the other hand, is a more strenuous hike. The trek will start on Evercrest, of which you will walk by passing several houses on the way to the mountain itself, negotiating muddy trails even on a clear day.
Suggested Itinerary
0400 Meet up @ EDSA Taft bus terminal, beside SOGO
0415 ETD PASAY terminal via bus bound for Nasugbu
0630 ETA Sitio Sampalok, stretch and rest, prepare things
0700 Start trek
0715 Register @ baranggay hall
0730 Resume trek to short forest line
0815 ETA end of forest line, trek to summit on open trail
0900 ETA Mt. Talamitam summit, rest and photo ops
0930 Start descent
1030 ETA baranggay hall
1045 Back @ jumpoff, commute back to Evercrest
1100 ETA Evercrest, early lunch, rest
1130 Start trek
1230 ETA Bukuhan
1300 ETA old trail/new trail junction, take the old trail
1400 ETA campsite
1430 ETA Mt. Batulao summit, rest photoops
1500 Start traverse descent to new trail
1600 ETA campsite of new trail
1700 ETA Bukuhan
1800 ETA jumpoff, washup/dinner
1900 ETD Evercrest
2200 ETA Manila
HOW TO GET THERE:
You ride a bus that goes straight to Nasugbu Batangas. This bus passes by both Evercrest (Mt. Batulao) and Sitio Sampalok (Mt. Talamitam). Fare going to Sitio Sampalok from Pasay terminal is a bit under Php200.
From Sitio Sampalok you will ride a jeep to get you to Evercrest, the jumpoff for Mt. Batulao trek. Fare is approximately Php20-25. From the Evercrest jumpoff, you have the option to ride a tricycle to get to the village enroute Mt. Batulao. Fare is Php50 per head.
In going back to Manila, the last trip of the bus is somewhere between 8 – 9pm. But there are jeepneys that can take you to Mendez or Olivarez where you can catch a bus to Manila 24/7. There are also colorum van rides which are cheaper than the bus fare.
NOTES:
Mt. Talamitam
- there is no known watersource in Mt. Talamitam. However, there are small farmer's huts along the trail to the summit
- there are lots of trails going to the summit. Be mindful of your position and avoid wandering far from the mountain trails
- prepare for trek on open trails, bring umbrella, armguard, cap, bushhat, sunblock
- the Mt. Talamitam forest trail has lots of insects, bring repellants
- there's a river where you can cool off.
- no stores selling meals near the Sampalok jumpoff point so it's best to bring packed breakfast. Lunch can be had at Evercrest where there are number of carinderias.
Mt. Batulao
- the trail can get very muddy even on a clear day
- there are lots of buko and halo-halo sellers along the way. It is our little way of helping the communities by buying what they peddle.
- also there are kid guides available at the jumpoff, you can negotiate for Php100-200 for the whole climb. Even though I knew the trail by heart, I still get kid guides to help them earn something for themselves.
- the ridge trail is very exposed to the sun, so wear proper attire. Also if you are taking the traditional trail, it is advisable to use insect repellant
Viewed
times