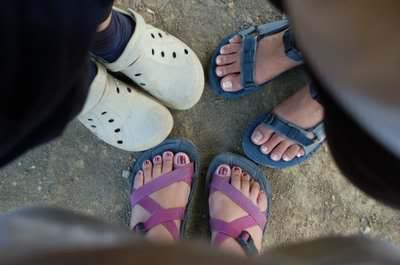 To those persons who knew me better as a hiker, they would probably tell you that I prefer trekking with slippers, crocs, or no footwear at all. In my 4 years of climb experience, I had only two hiking shoes.
My first pair was from Merrell. As a newbie on a budget, you always turn to Merrell. It was first used on my Mt. Mayon climb, year 2007. One catastrophic error I made was to wash it hard with laundry detergent, and let it dry under the sun. The semi-leather body stiffened, and I have to apply baby oil to it every time. I hated that pair. It was heavy, and the Vibram soles made me unstable especially on pebble grounds.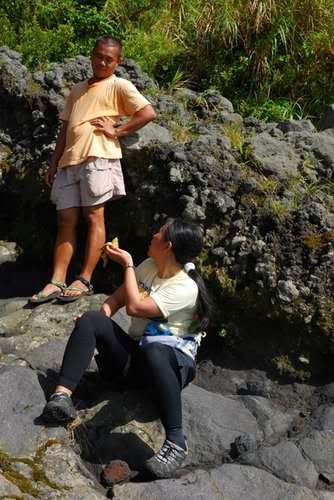 Merrell on Mt. Mayon, 2007
Brand:
Merrell
Model:
Unknown
First used in:
Mt. Mayon (November 2007)
Last seen on:
Mt. Arayat (November 2008)
Reason:
Fell on the ravine in Haring Bato
I like it because:
comfortable cushioning
I don't like it because:
heavy especially if wet or with mud, sole design not fit for pebble treks
Special memories:
The day I lost it on Mt. Arayat. It was still fit for use, but as my companion said it is "lives versus equipment" so I just let it go. A comment on the pictures I posted in Multiply made me realize that I should have thrown the other half so the person who might be able to retrieve can make good use of both shoes.
The second pair came a year after. I thought it was love at first sight. I have sworn against anything overpriced like The North Face products, but when I saw the specs and details of this baby online... I thought it was the perfect match. Maxx (as I fondly called it) served me well, bringing me to most of the country's highest peaks.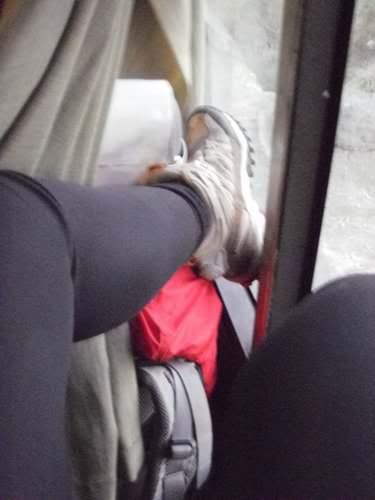 TNF enroute Mt. Marami, 2009
Brand:
The North Face
Model:
Plasma Goretex XCR Boa II
First used in:
Mt. Banahaw (November 2009)
Last seen on:
Mt. Kanlaon (July 2011)
Reason:
The shoe disintegrated
I like it because:
lightweight, midcut, soles shaped like spikes, earth and orange color, easy to clean, Goretex, Boa technology (shoe lace)
I don't like it because:
thin cushioning, most of the time I get dead nails or a paltos after a climb
Special memories:
On the whole Mt. Kanlaon trek, where I have to tie it with dental floss every now and then to keep it together. As heartbreaking as the parting would get, I gave it to the guide. Not fit for climb use anymore. Makes me regret it, I should have brought it with me and have it fixed and use it as casual wear.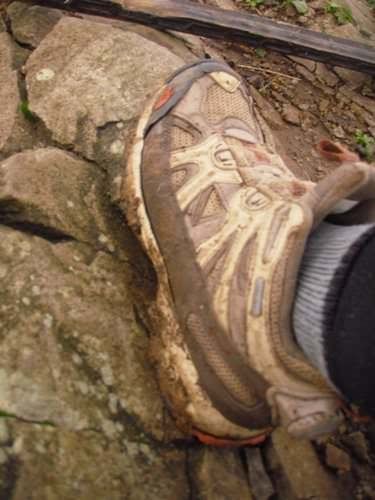 second to the last climb, June 2011
Getting a new pair of hiking shoes is not as easy as 1-2-3. Aside from price considerations, you have to factor in your compatibility with your gears. It's a "what I want or nothing at all" for me when it comes to hiking shoes.
Before and in between those two periods I was using trek shoes, I have the following footwears as fillers on my climbs…
cheap sandals from the market on my first climb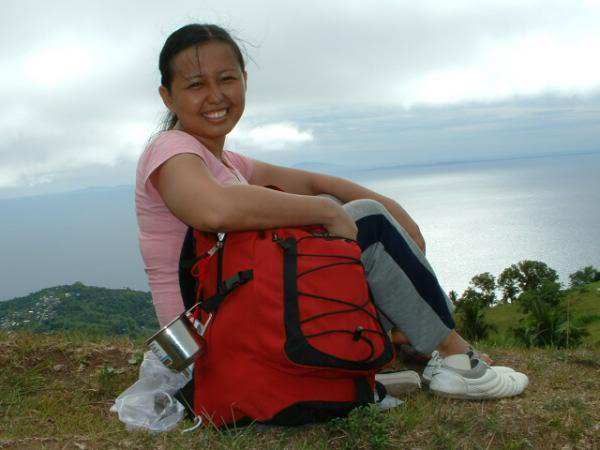 cheap "Nike" for my second climb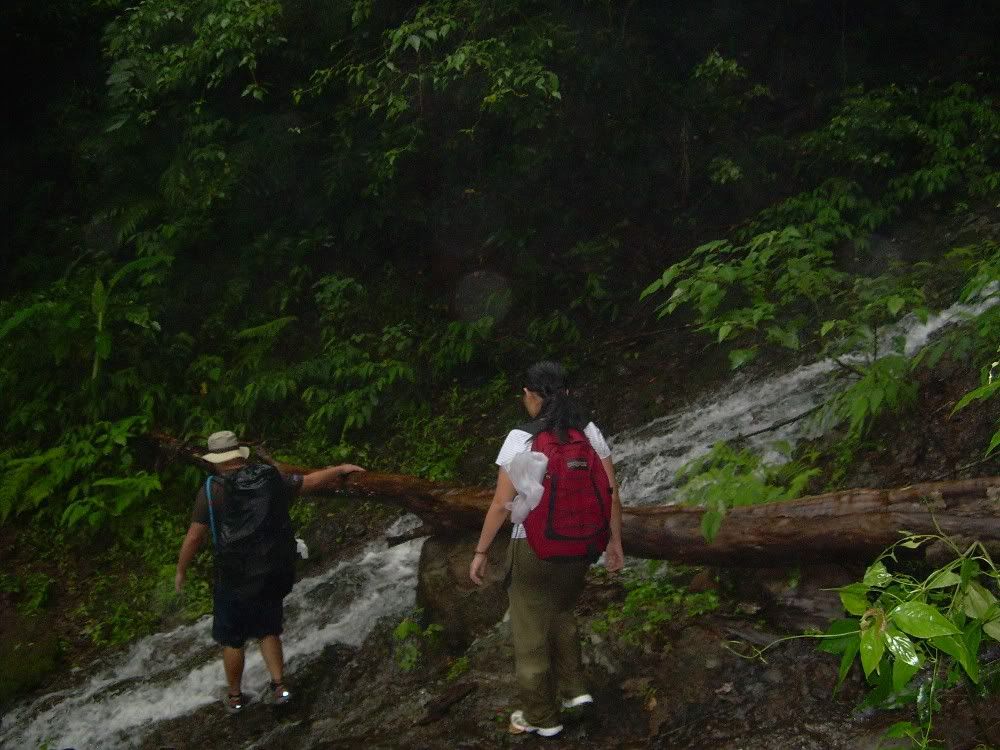 FILA running shoes: used first and last time on climb in Tarak Ridge, 2007
Manjaru sandals in Mt. Hibok-hibok 2008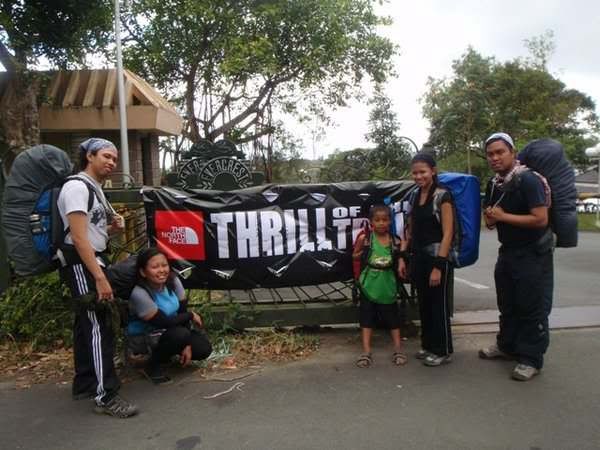 Mt. Batulao, January 2009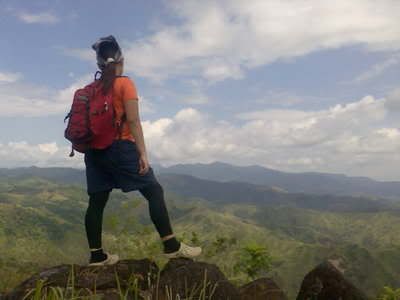 Mt. Balagbag March 2009 on Crocs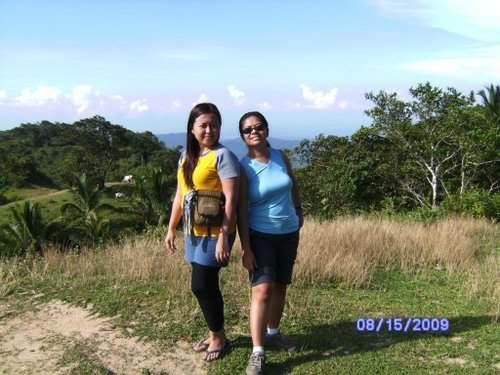 Mt. Daguldol dayhike August 2009: flipflops again
Mt. Balagbag April 2010: mountain guide's foot to the left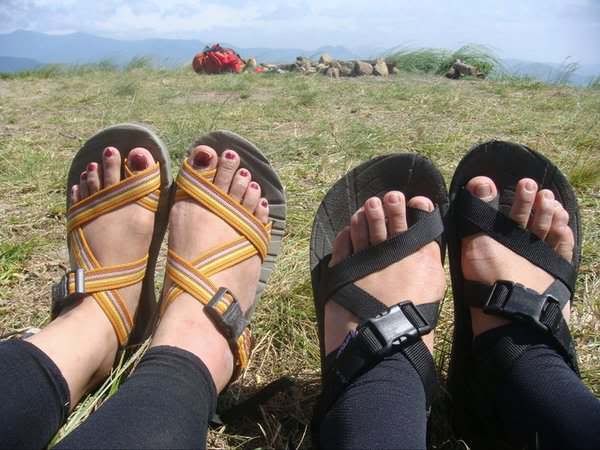 colroful Tribu sandals: my fave color of course (Mt. Balagbag 2011)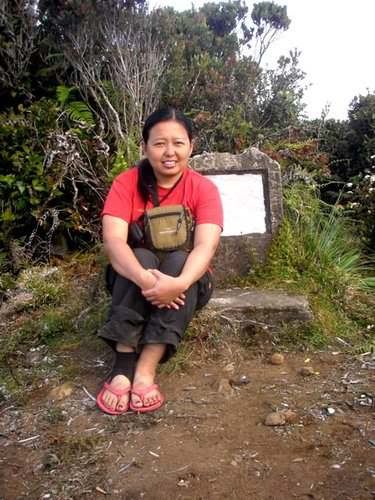 Mt. Napulauan 2011 on foot and on pink slippers
Mt. Mayapay 2011 with slippers from Manel's
UPDATE:
I have managed to drag myself to buy on a "need to use" basis. I just went ahead to the nearest Merrell distributor and got myself a pair of Chameleon shoes. Not as fancy as my TNF, but not as bad as my first shoes. Just in between. It got the right amount of cushioning for my feet. One drawback is the weight of the shoes… and it does not have the Gore-tex technology. I have used it just twice, first in Mt. Balatucan and last in Mt. Kinabalu. I just need to have shoes for that Mt. Kinabalu climb.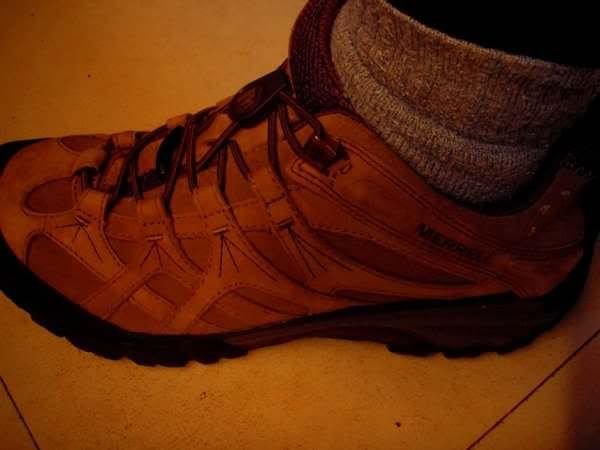 third hiking shoes, Mt. Balatucan climb 2011