Every year is a new experience. The past year was full of fallen hopes. Lots of trips cancelled….and lot of excitement went to waste. Despite, the climbs that pushed through made up for all the disappointments that I have endured.
By the numbers, last year was equivalent to 21 climbs, 12 of which were new peaks for me. I have always thought that I made good the previous year, but when I accounted for each year I realized that I am progressing as the year passes. I am just not noticing it. It was also a year that I had my first international flight on my own. Of making dreams come true. =)
Mt. MANABU (January) :
The Year-starter Climb
Mountaineer's dream includes that of starting the year with a blast of a climb. But if you don't have any plans at all… one can be contented with just any mountain that is close to the heart.
This trip was supposed to be a double dayhike of Mts. Batulao and Talamitam in Nasugbu, Batangas. But with unforeseen events always waiting to happen, there had been a change of plans we proceeded instead with the easiest way out. I originally had Mts. Manabu and Maculot as Plan B for the botched Nasugbu back to back climb. We got lost at the start of the trek, and it was raining hard on our summit assault via Mang Pirying's kubo.
not bad for a year starter
We again had a hard time finding our way back to the jumpoff after we passed by the buko station. I get to step on a lot of animal poos, which I don't appreciate in the least. Ok, who would right? At the wash-up we just enjoyed our stay since it was pre-determined that the second peak assault was out of the question.
BALAAN BUKID and Mt. TARIPIS (February) :
Breathe in, Breathe out.
I was in luck that my old-time hiker friend Breatherine was free to accompany me on this sojourn to one of the provinces that is very close to my heart. This was my second time in Guimaras, and my third time in Iloilo… fifth if you will consider the few times I went back here from Bacolod.
My first time in Guimaras was just a passage. Just to bag the pride of stepping on the land that produces one of the sweetest varieties of mangoes in the world. This time I made sure that I won't miss visiting the highest point of the island… and I am very grateful that I made that trip. Atop Balaan Bukid, I found my sanctuary.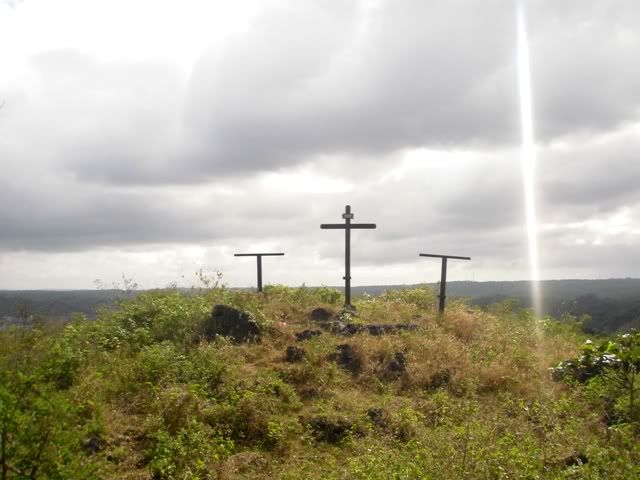 most serene place on earth
Mt. Napulak haunted me in my dreams since I first saw it from afar in February of 2008. I went back last August 2010 and came closer to feel the mountain for my self. Atop Mt. Napulak, my eyes feasted on other peaks that are only revealed once you get deeper on the sitios beyond Igbaras. I distinctly pointed the enchanting one and was told it was called Mt. Taripis. Oh how I cunningly planned my return from then on.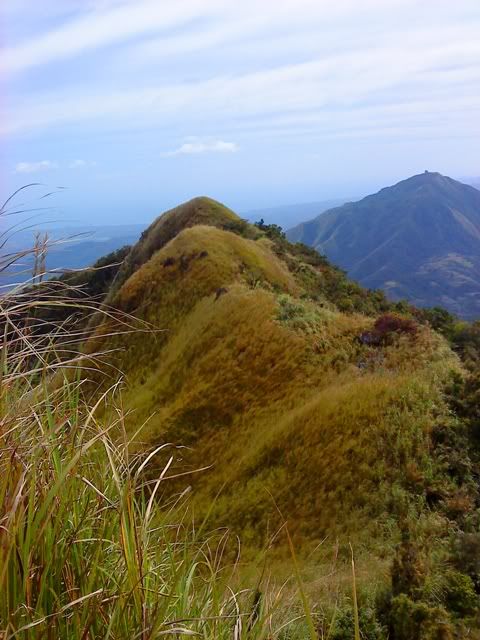 distinct Mt. Napulak profile on afar
The eye-openers were delicately tiered. When I went to Igcabugao for Mt. Taripis… I was again mesmerized by my new discoveries of peaks beyond that of Igcabugao. And then I knew… I had to get back for those peaks. And the new discoveries that might present itself while I am atop of those beauties.
Mt. BALAGBAG (March) :
The Logbook County
This mountain became very close to my heart… for the breathtaking views and the different memories of my climbs here. Yes, it still holds true that you cannot climb the same mountain twice. And along with the distinctness of every climb here, the community has evolved to adapt to the growing number of visitors to this humble but very, very beautiful place. I wrote an entry in protest to the budding possessiveness of the purported land owners here. This was also my pseudo-training climb for my second Cordillera Traverse.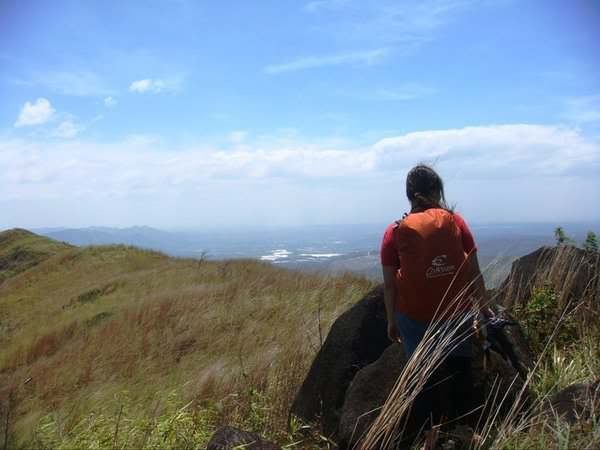 My loveliest mountain of all
Mt. NAPULAUAN (March) :
I, Barefoot… I, Survived.
One of the nightmares of a hiker is losing or forgetting his/her trek shoes…especially on major traverse climbs lugging ankle-breaking heavy packs. Stupid of me to have left my trek shoes on the overhead compartment of the Florida bus. It was disheartening, but was not enough to discourage me from climbing. Again this was not a good example, as trekking barefoot (on slippers even) is a major breach of the mountaineering rule of thumb. Ok so you can climb Mt. Apo on sandals. But still…our BMC bibles preach against doing so.
This is again an attempt to join an organized climb by strangers. Luckily, everything went quite well, and I have to thank the sweepers (Hensel and Josh) who went the extra mile of entertaining themselves and me during my slow descent. A limatik stealthily drew blood from me. I only saw the bloody evidence upon wash-up…in my belly of all places.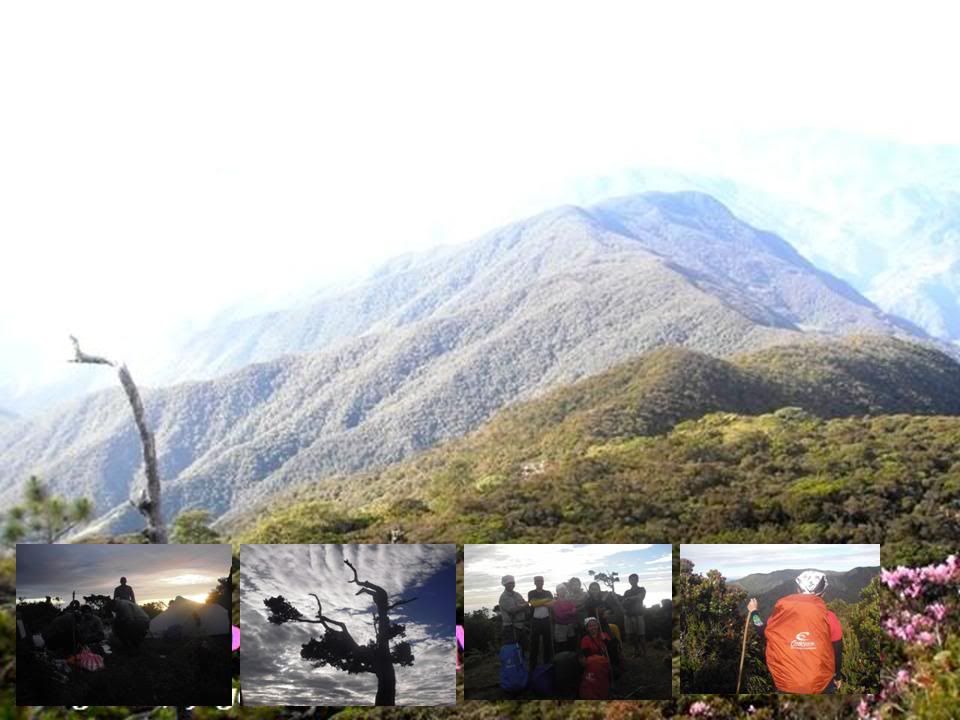 i was at the mercy of strangers
I managed to retrieve the shoes on the luggage section of the bus line in Sampaloc, after amicable negotiations with our bus conductor.
BTW: I absentmindedly followed suit to a fellow hiker when he applied detergent to his legs and foot to deter limatiks. It is a big NO-NO because you might spread chemicals to the forest that might harm the biodiversity.
Mt. BANOY (April) :
First All Girls Climb
I admit I prefer to be with fellow girls on dayhikes, but it gives me discomfort on doing overnight climbs without the security of having males in the group. And I had the right reasons. When we were up there in one of Batangas' minor peaks…. several tower engineers saw that it was an all-female fete, some attempted to join the slumber party. It became really awkward especially when they started a bonfire which we the girls are trying to put out with our psychokinesis. We don't want to be at the mercy of drunk, testosterone-laden strangers so we kept the liquors to ourselves and didn't start the drinking sessions until the men left us alone.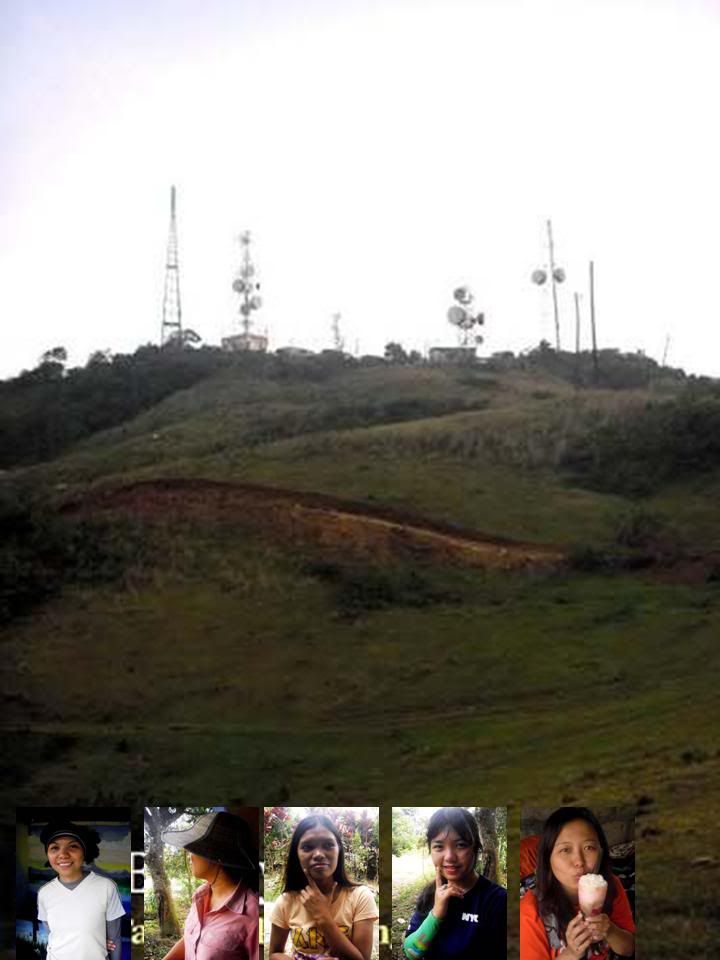 tandaan nyo ang mga mukhang yan
I never knew I would enjoy so much the time I spent with these girls. It was also my first time to meet most of them in person. We're all crazy up there. And I was glad. Lols. Partey-partey!
Mt. KOROBONAN and Mt. IRAYA (April) :
The Northern Pilgrimage
With the help of my friend Leizel, I got to visit one of my dream destinations, the Batanes group of islands.
Mt. Korobonan was the highest point of Itbayat Island. A small yet enchanting farm sits atop of the hill that rises no more than 300masl. We got to share the memories here with Ms. Mae Paner of the Juana Change Propaganda. The trek was a bit disappointing as it was just a few minutes of walking; only one kilometer-estimate from the vehicle parking, as I was told. This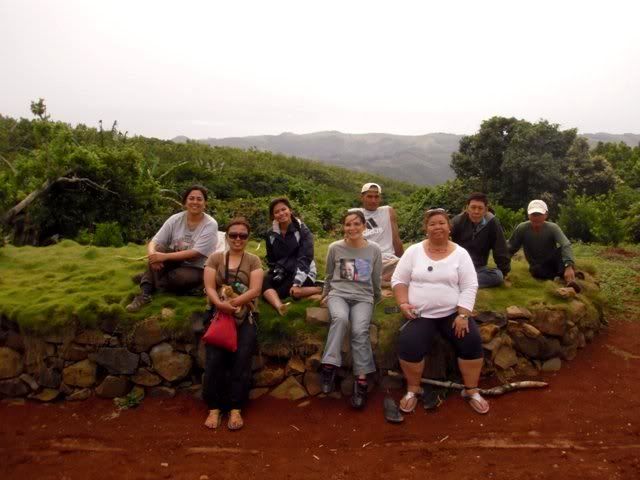 still bitter over Mt. Ripused
Mt. Iraya on the otherhand, made up for the bit of disappointment I had with Mt. Korobonan and missing Mt. Ripused. The trek was a bit excruciating, the steepness of the trail that seemed infinite. The weather was unforgiving at that time, and we failed to enjoy the summit view. The descent though was fairly easy. I had no time to research on the biodiversity composition of the mountain…good thing as it was widely known to be home to numerous species of vipers. Nyikes. I could not imagine trekking in the shadows of the slithering and tongue flickering.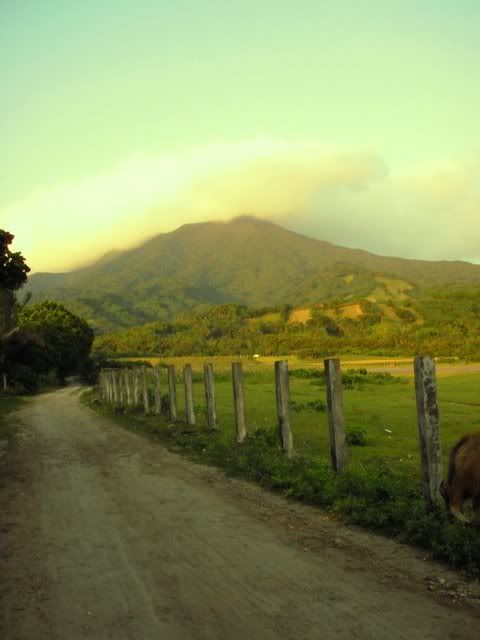 northernmost notable mountain
Near the foot of the mountain, there's the Basco runway that quite doubles as the cows' grazing grounds whenever the airport's operation hours of 7am to 4pm ends. Quite cute and ingenious if you'd ask me.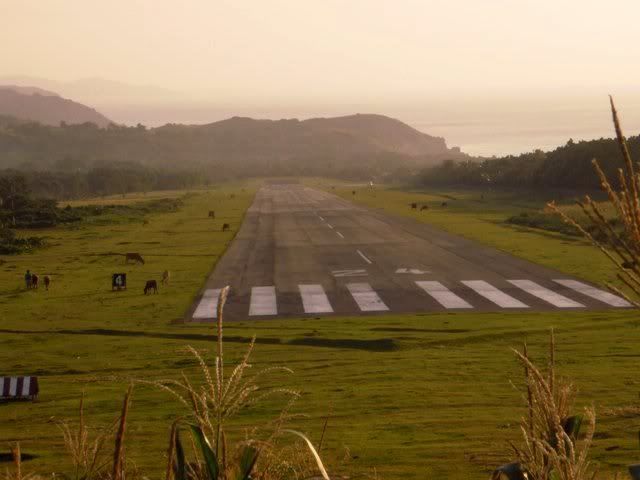 this is multi-utility at its finest
Mt. MAKILING (May) :
Finally….. Finally. Finally!
Any hiker's climb resume is incomplete without this mountain. A darling every trekker, this lady mountain of Laguna-Batangas descent enchants the young and the old. But not me. Lols. I dreaded the day that I will get to climb this mountain. I bet you prolly have an idea why. Hahaha.
Limatiks are very notorious nuisances here. Not only they get to drain you of a few drops of blood, they also have a particular preference for soft tissues like the eyes. If you are lucky enough, you will end up unscathed just like me in this climb. But if you are luckier, you will even get to bring home some limatiks even after washup.
lasheng yung camera
I am still on "testing the waters" for this mountain. Once I get to feel comfortable on the trail, then I might include this as a regular refuge whenever the "masochistic tendencies unique to hikers" strike. Thanks to the guys who accompanied me here, and was forced to spend the night on whatever accommodates their sleepy bodies may it be a store table, a bangko, a frail tent pitched on stony grounds or a parked jeepney.
Mt. MANUNGGAL (June) :
That Treacherous Eerie Feeling
Most of the Cebuanos know the history behind the fame of this not-so-notable hill. President Magsaysay along with his numerous co-passengers who were equally notable persons in Philippine government during their time, lost their lives when the plane Mt. Pinatubo slammed into the terrain in Balamban area.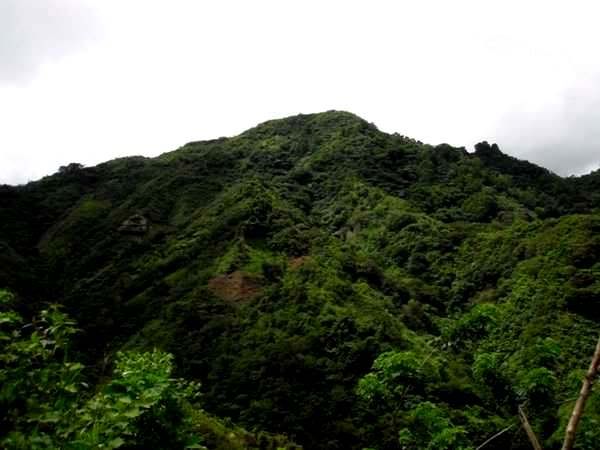 impact site was on the other side
I had planned this climb for the longest time. Twice, the Cebu trip was cancelled (flight tickets were already booked) due to unforeseen circumstances, and one time I have to forego the climb due to fatigue and time constraints brought by the previous day's ascent on Osmena Peak traversing Busay to Kawasan Falls in Badian.
I went there on my own, which was a bad idea. The eerie feeling crept upon me just as I was face to face with the Mt Pinatubo engine and was reading the list of casualties. And the cows on the trail. How I managed to slip past them is still beyond me.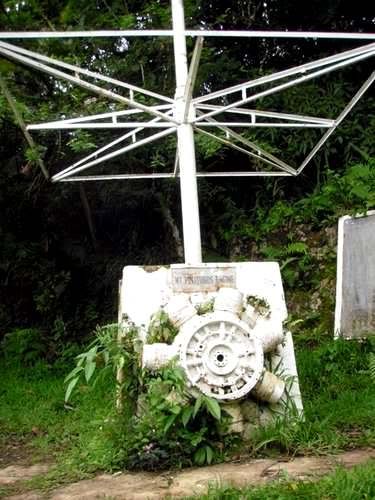 engine shrine on the impact site
Another highpoint of this pseudo-climb trip was meeting the caretaker of the area who was too eager to tell her story in her native dialect Cebuano, assuming that I am fully conversant with the same although I made her understood that I was from Manila. By that way, I walked from the main highway to and back all the way to the monument and the shrine, then walked a few hundred meters more on the scorching road to the nearest zipline adventure park.
Mt. MASARAGA (June) :
Case of Mistaken Identity
This crooked Mt. Mayon replica (so it appears in some angles) has been an obsession since I went past it on our way to Naga from Sorsogon for the botched Mt. Bulusan climb. That and Mt. Malinao.
Now that Mt. Malinao had been crossed off my climb checklist since June 2010, I had to find information and contacts for Mt. Masaraga. A Multiply contact native of the Bicol province became a big help as he gave me the digits of his "padis" whom were well-versed with this mountain. The guide's name and direction to get to the jumpoff was provided by a Bicol climber. But upon securing a guide, I mistakenly failed to get the last name. I got a mountain guide whom I believe to be the one recommended by these Bicol climbers, but turns out to be just a local farmer who knows his way on the mountain.
Boy did I cry on the trail when I realized that this guide doesn't know the way to the summit. And that most of the Bicol contacts I had would not respond to my text queries, prolly because they were too drunk to even notice (Freedom climb) that a hiker is in danger of getting lost and might die of disappointment. With my persistence and determination and anger in feeling betrayed, I goaded the guide to hack our way to the real summit. That was the real test of my limits. Without food nor water provisions nor hope (we left the supplies at abacahan lunch stop believing the summit is just 15 minutes away), pushed for 4 more hours until we reach the summit at past 5pm on bad weather. I was already trekking barefoot on sharp bamboo grasses, but the pain of the cuts on my foot and arm went away as sweet victory enveloped me upon reaching the top. It was really a fateful summiting, since I told the guide that the peak in front of me will be our last ascent and that if it proves to be another false summit, we will backtrack defeated. Fate was not that unkind… that last peak was indeed the summit. Omeyged!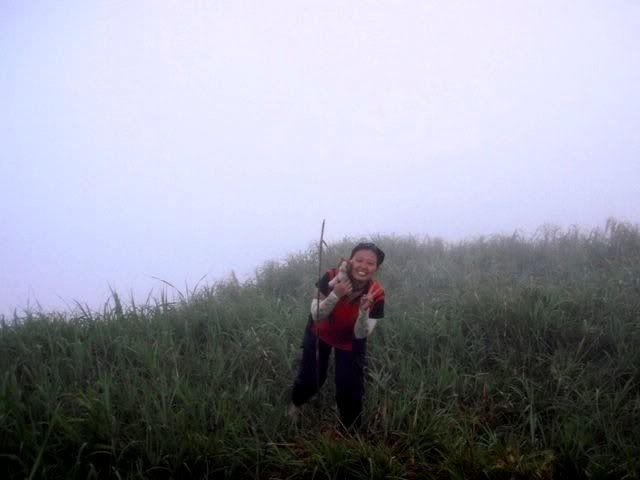 my best shot at a victory pose
Backtrailing was the longest day and night of my life. We didn't have torches, I just exhausted of what's left of my camera's flashes and my cellphone's screen light. We reached abacahan grounds around 9pm where I had my supplies and provisions… we rested in the dark, sleeping while sitting dripping wet, constantly pestered by limatiks crawling in our faces. We proceeded with the descent around 3am, and reached the guide's house around 7am. His parent revealed that Kuya Toto my guide had never been to the top, and that there was an urban legend of a giant snake roaming in the abacahan. Yikes!
I am thankful for a guide that is ever so "game" in sharing my misfortunes. I enjoy letting the locals get a taste of my misadventures, from Mt. Isarog's near-death experience plus ghost encounters, Mt. Malinao guides' first dayhike climb + climbing while getting dumped by wife (I was sorry to hear this) + my night visitor that got me terrified to death to Mt. Pulog guides' father's first time to see the enchanting lake with his own eyes.
Mt. PICO DE LORO (June) :
Through the Rain
My first Pico de Loro was marred with ghost stories while my second one was much enjoyable and fulfilling since it was an unguided traverse all-female duo climb.
Third time should be a charm, but not quite. I was not informed (or I deliberately dispelled the news) of the storm and we proceeded with our training for the Mt. Kanlaon climb. With were two of my previous climb buddies in Mt. Makiling. I volunteered to be the "guide", which usually ends with either being confused with the trail or actually getting lost. We literally went against the tide-- of water rushing down the mountain, and the formerly dried up river bed sprung to life.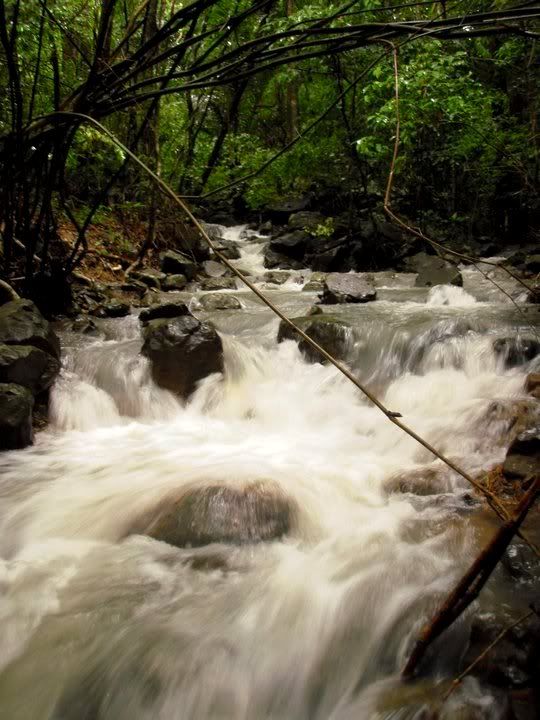 zombie river from the dead
When we reached camp it was ours for the taking, took us quite some time to settle in since we have choices on premium real estate for tent pitching. The weather next day did not improve, and we just went on with the traverse without scaling the famous monolith near the summit.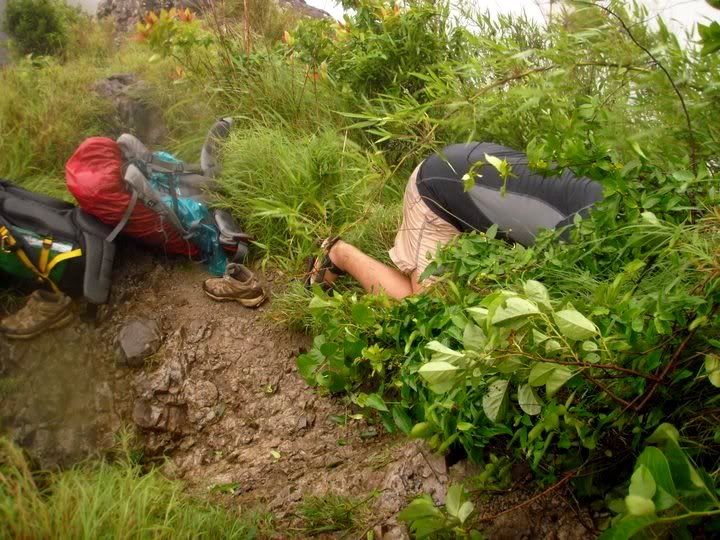 retrieval operation for my fallen shoes
Got disoriented when we got down the Ternate-Nasugbu highway, hitched with several trucks to and fro the dead end of the supposed road connection between Cavite and Batangas. My companion left his ride at the DENR in Ternate and we had to go back there all the way from Nasugbu. Bummer. We finished the traverse descent around 4pm, and reached Ternate DENR via commute around 9pm. We literally went in circles.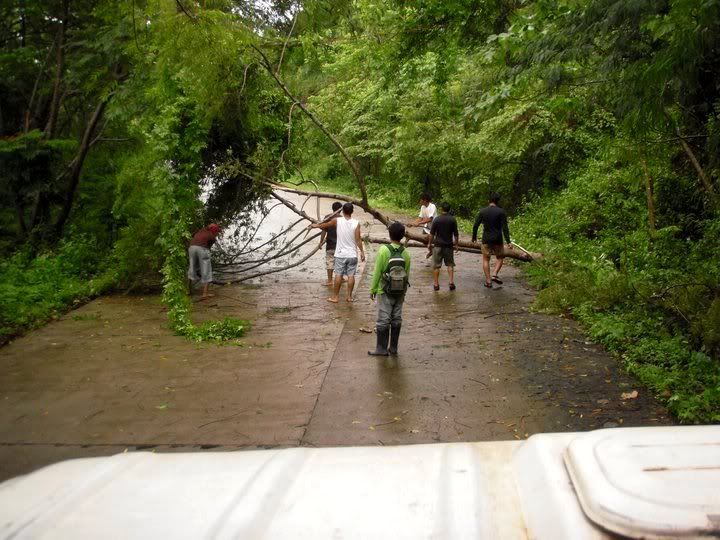 bagyo aftermath
Midnight preclimb followed suit, of which we were too tired and sleepy to focus on. After agreeing and settling on key points, we then headed in our respective homes. Lesson learned: Don't do training climbs on rainy days, you might get the same weather on the climb that you have been training for. Yipes!
This ends part 1 of my 2011 climb summary… but the adventure never stops here. It never does. :D