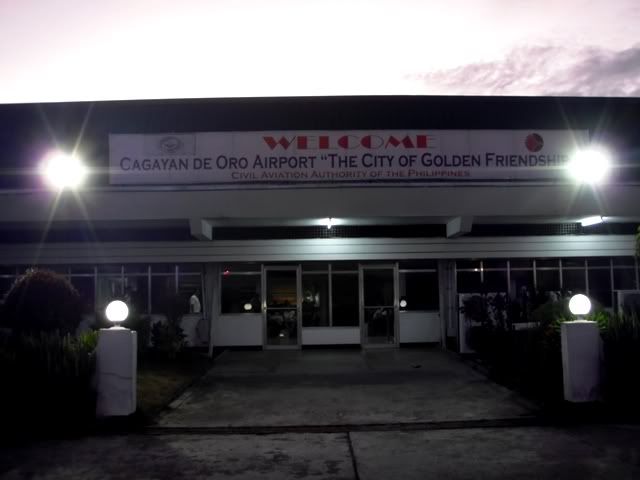 sleepy Lumbia airport
Lumbia Airport
which serves Cagayan de Oro and other Northern Mindanao destinations is used by the carriers PAL, Cebu Pacific, Airphil Express and Zest Airways(beginning this June 2011). It is located in Brgy. Lumbia in Cagayan de Oro City.
My first taste of going to this airport was November 2008 during my botched Cebu-Camiguin-CDO trip. From Agora terminal, I was asked for P300.00 by the driver to which I was more than willing to oblige since I was in an unfamiliar territory, with depleting resources and has a plane to catch. Over the years of going in and out of this airport, I managed to take note of alternatives which will save me on transportation cost for future touchdowns.
TO: CAGAYAN DE ORO CITY from LUMBIA AIRPORT
You can take the jeep parked outside the airport vicinity, which will take you all the way to Carmen for P16. From there, you can ride another jeep to Agora Bus Terminal if you are bound for another destination.
To: LUMBIA AIRPORT from CAGAYAN DE ORO CITY
You can ride jeepneys plying Xavierville Heights, which can mostly be found in the Carmen/Cogon area. You can also cut trip via jeep to SM City, then ride a jeep going to the Lumbia airport. All of these two alternatives will not cost you more than Php30.00.
Taxi fares here are quite steep, but you can always haggle since there are lots of them out waiting for passengers in the airport. Some will ask for Php300, but you can go as low as Php150 if you know how to play the haggling game. My strategy is offering my bid of how much I am willing to pay, if they don't agree then I walk away. Pretty much almost always they run after me to give in to my price offer.
Note:
This airport will be replaced by Laguindingan International Airport in Brgy. Moog, Laguindingan, Misamis Oriental when construction is already completed in 2011.