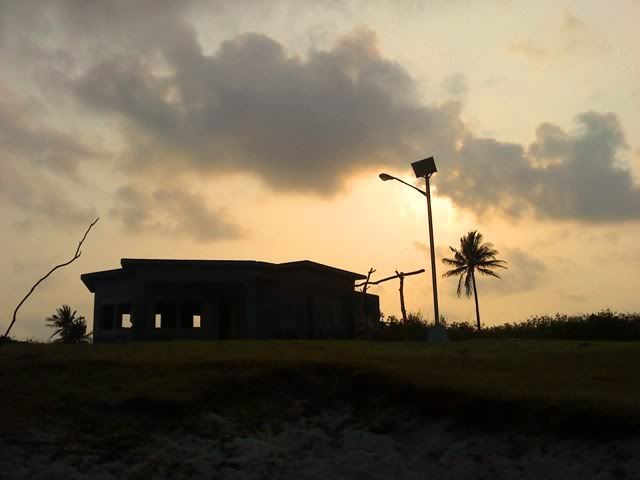 Ivuhos plaza: With foolishness we dared… it's Bakun Trio all over. =D
NOWHERE TO GO
While waiting for the boat to Sabtang island in the Radiwan Port, our newfound friend Ingrid briefly introduced to us the wonders of Sabtang and the nearby islands. One that caught my attention is what she called the Ivuhos Island. Truth be told, I was not well-researched when it comes to Batanes as a whole. I just focused on the 3 main islands of Batan, Sabtang and Itbayat.

almost accurate panorama of Sabtang as viewed from Ivuhos
Ivuhos island (Cow island) according to her, is a secluded island with great white sand shoreline. And that just beyond that island is another small one named Adequey (Dequey) or the Goat Island. I got interested when she mentioned that Ivuhos island is uninhabited by people, and that most of the dwellers here are grazing cows. Getting there, you need to charter a fisherman's motorboat… according to her. Also, she pointed out that there are two jumpoff points, you can either come from the town of Nakanmuan, or the southernmost Sumnanga.
This little information slipped off my mind when we had a chat with another Sabtang island resident, a native of Chavayan. We decided to spend our night in their little village, as indicated in our original itinerary that we are indeed to stay in Chavayan guesthouse which will cost us only Php100 per person per night.
While we were having our late lunch in Ate Beth's store near the Sabtang port, she mentioned Ivuhos island and how she doesn't want to go there because of the bugs that are notorious to give anyone who dares to visit the island… large nasty bites.
By that time, our plans for the island are getting more definite. We will spend the night in Chavayan, explore the village, then proceed the next day to Ivuhos for a quick visit before heading back to Basco in the afternoon.
CHANGE OF PLANS
One untoward incident with the tourism officer made us change our course. Given that Sabtang is a small island, the officer, on a Sunday afternoon, have heard of the coming of two visitors with no tour agency affiliations. She then proceeded to the store where we were having late lunch, and pretended to buy something, had a chat with us, and told us of the protocol for tourists. Of course we will register and pay the necessary tourism fee. But she insisted that we could not go to Chavayan village via tricycle charter just by paying the normal fare being paid by the locals… which is Php200 per trip/one way. She wanted us to pay Php800 for the tricycle, including the tour.
At the time, I could not understand that she's just doing her job as tourism officer… pulling in as much income for her local community as possible. Selfish as it was, all I could think of is we're just two cheap travelers who don't have much to spare. It's no problem paying php800 had there been many of us who will share the bill.
There in Sabtang, it's hard to have a DIY tour unless you have time to spare by which, you will walk your way through the island. And they were right, the island is small and poor that they don't have cheap regular transport except for the one plying to Sumnanga.
Ate Beth, the store owner, sympathized with us that day. She even called on Kuya Edwin to charter us to Chavayan on regular fare. But unfortunately, he had already left with the local from Chavayan that we had a chat earlier.
So after having a not-so-good start with the tourism officer and after paying our tourism dues, we wandered off in search for a good alternative plan.
A kindhearted jeep driver offered to transport us on the other side, to Nakanmuan or Sumnanga… he'll just get permission from those who chartered him to a wake in Sumnanga. Ate Beth told us that the driver was the former Brgy. Captain of Nakanmuan. He offered to look for a banca ride for us to Ivuhos island. He told us that there were several wooden houses there, with potable water, and that it is feasible for us 2 girls to spend the night in that island. We wanted to jump for joy at the moment.
fearless lola na gaya gaya: nagalit pa nung sinaway cia dahil nagtopload
We rode topload of that chartered jeepney all the way to Nakanmuan. I can't help but marvel at the sights that are new to my eyes. Rolling hills, scenic beach, nostalgic roads. I am beginning to love Batanes. I wouldn't have it any other way.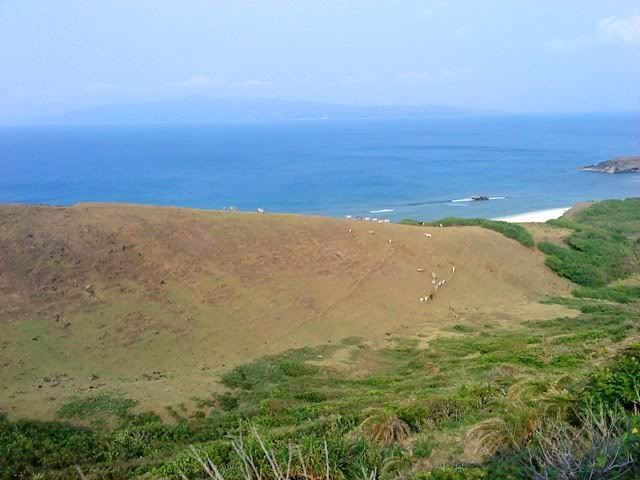 parang Gulugod Baboy lang
they have cemented roads already
one of the breathtaking views that will make you go "wow!"
its goin to be a good weather tonight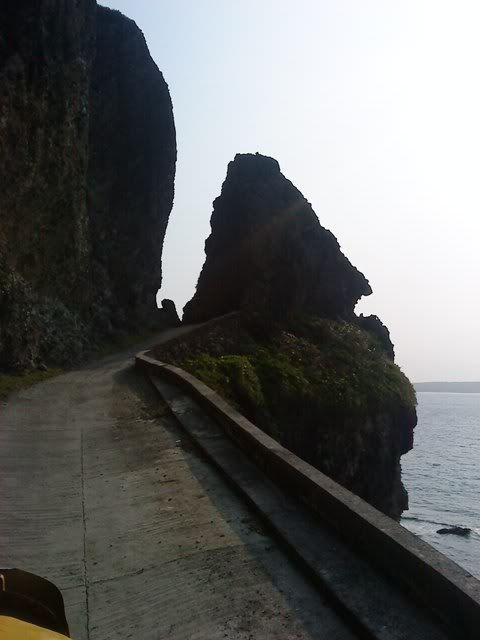 passage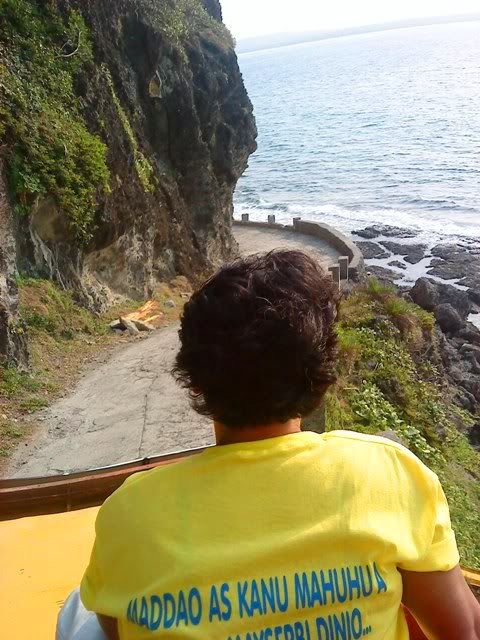 holding on si lolang matigas ang ulo, :P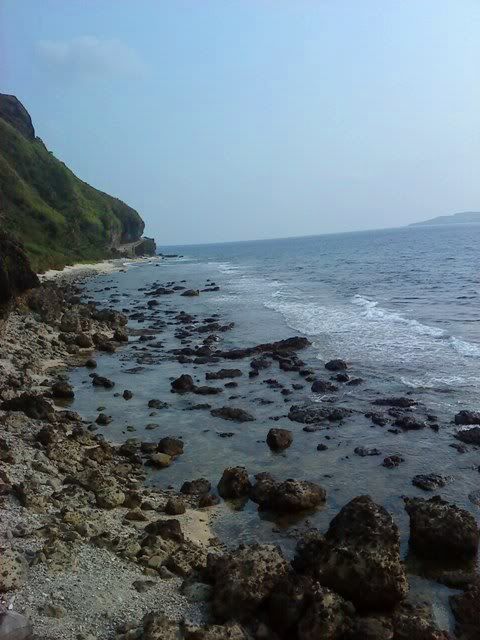 free beach!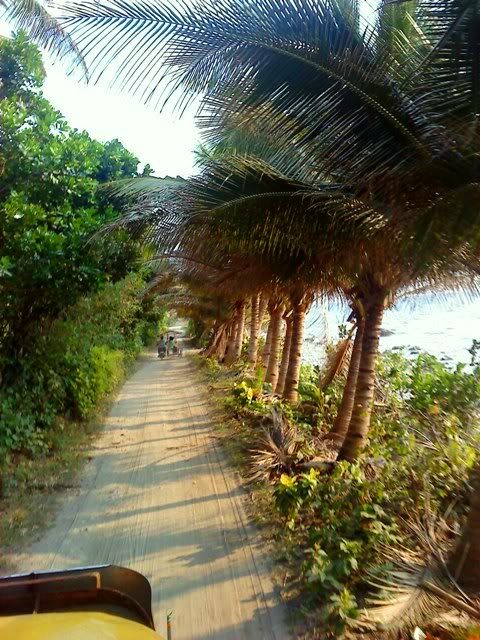 "nakow nauna yung tricycle…." – I heard them mutter
When we reached a small village of Nakanmuan with stone houses and super narrow one way alleyroad, the driver immediately alighted and looked for an able fisherman for our Ivuhos boat ride. He found one who agreed for a price of php300 one way trip. This sounds like a deal to us. We gave the jeep driver gratuity for his efforts… and it is heartwarming how he refused our small cash appreciation but we insisted.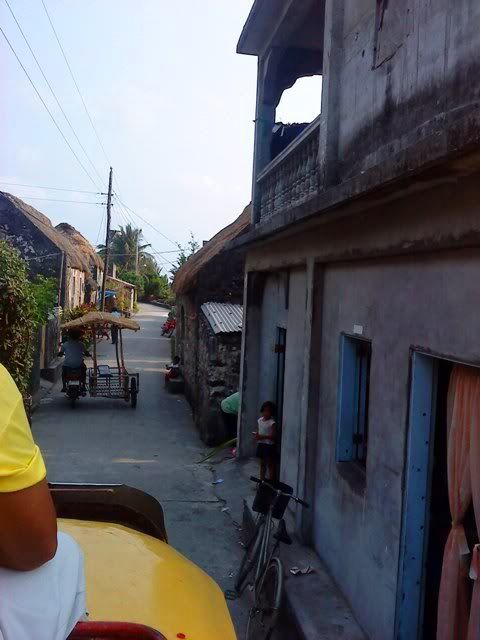 pakipot road of Brgy. Nakanmuan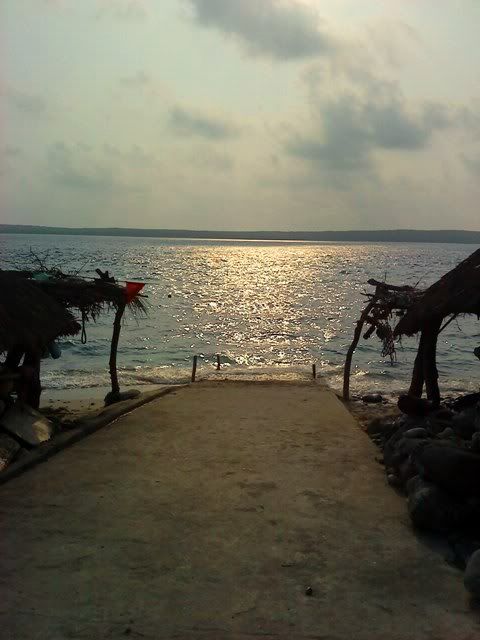 port of Nakanmuan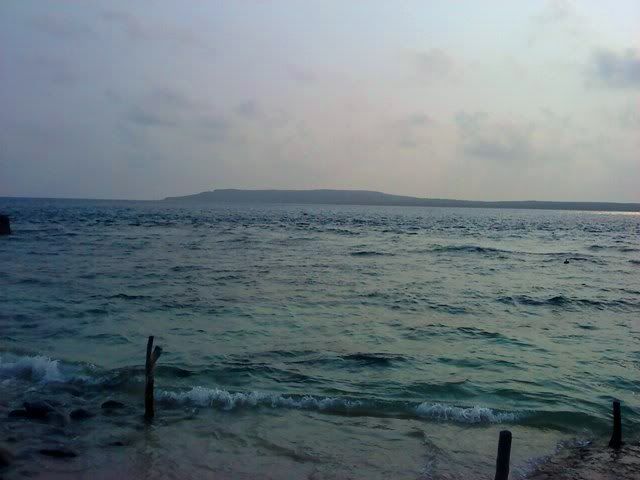 island stretch of Ivuhos from afar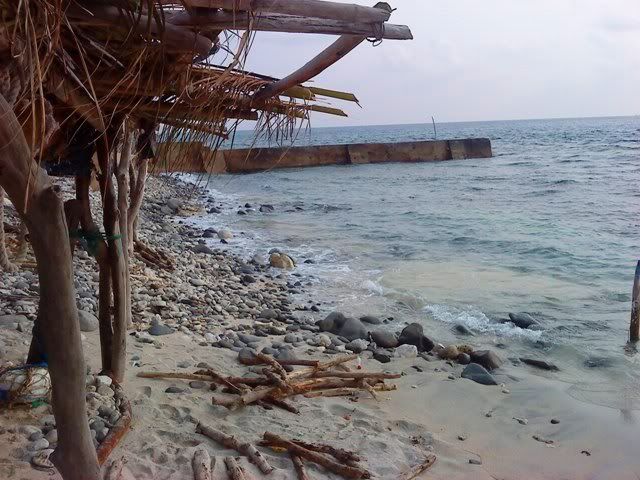 rocky shoreline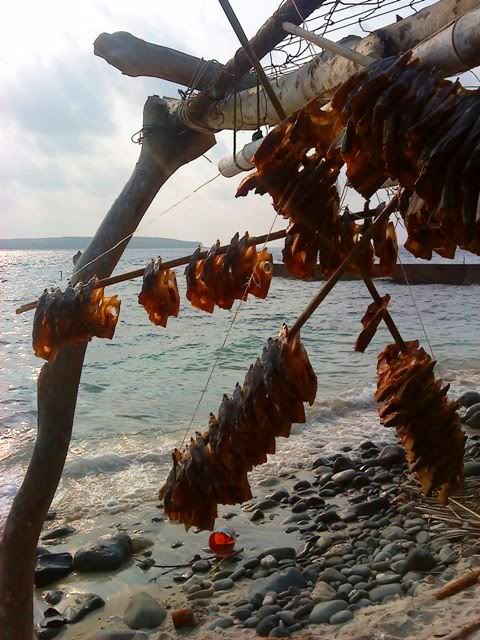 some kind of dried fish?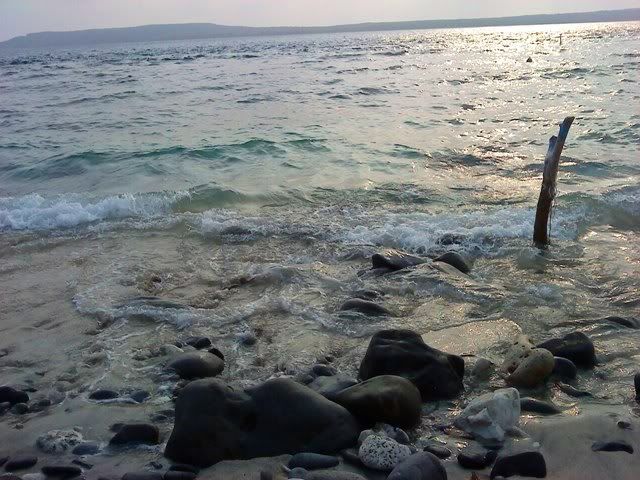 slightly tempestuous waters
FINAL ANSWER???!!
Our boat driver is Kuya Francisco, he looked drunk to me. Lols. He called some drinking buddies to help him get his boat on shore, as in Nakanmuan they could not anchor their boats so they need to bring them on land after their ride.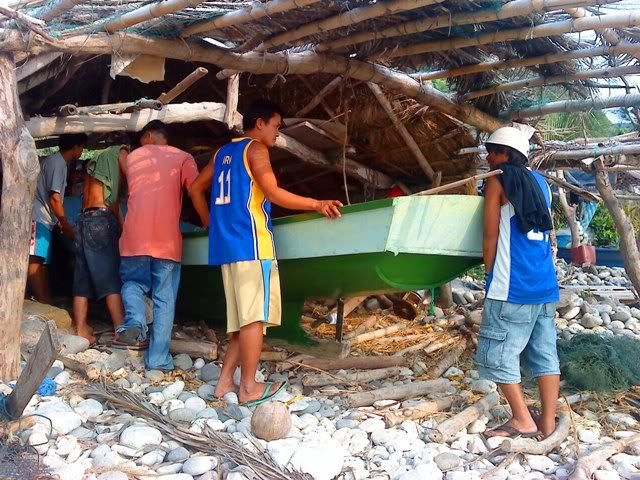 clueless and half-drunk men asking if we're riding the boat to Basco. Lols.
so… blue!
errr we go!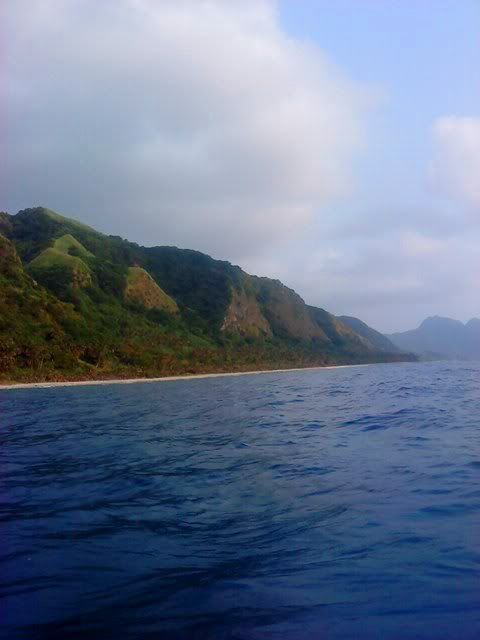 bye for now, Sabtang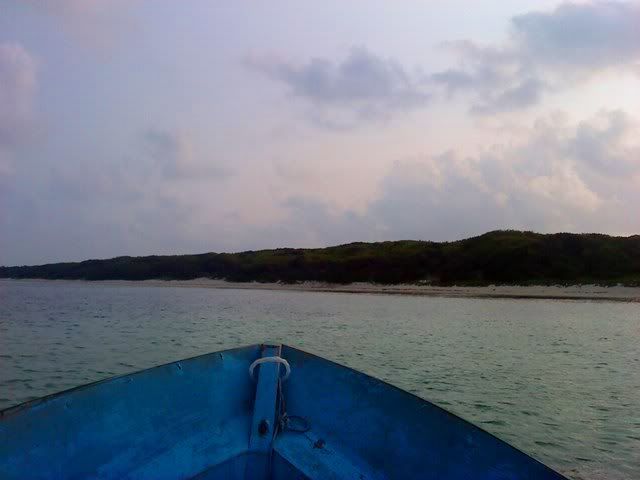 approaching the island
The ride was a bit bumpy, but we were very much excited. The boat ride took around 30 minutes, including the slow tour on the shores of Ivuhos. When we docked, we understood what Ate Beth was telling us about. Lots of tiny bugs greeted us with bites. We hurried to the plaza, and Kuya Francisco showed us around a bit. He also told us of the attraction of Ivuhos island, which is the ancient burial site that is a few kilometers away from where we were to camp out.
tour of the shoreline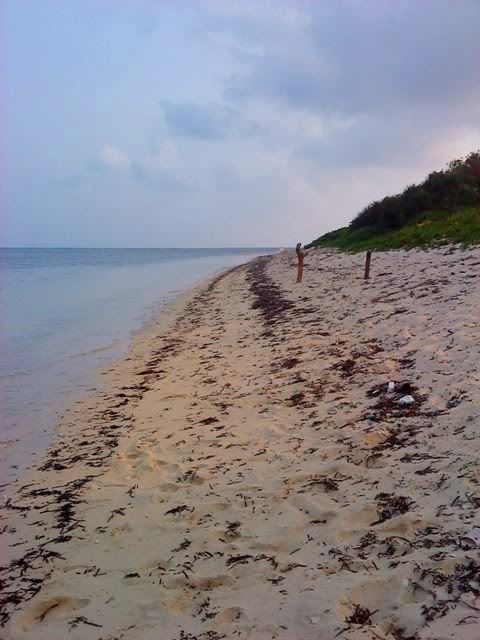 whitesand everywhere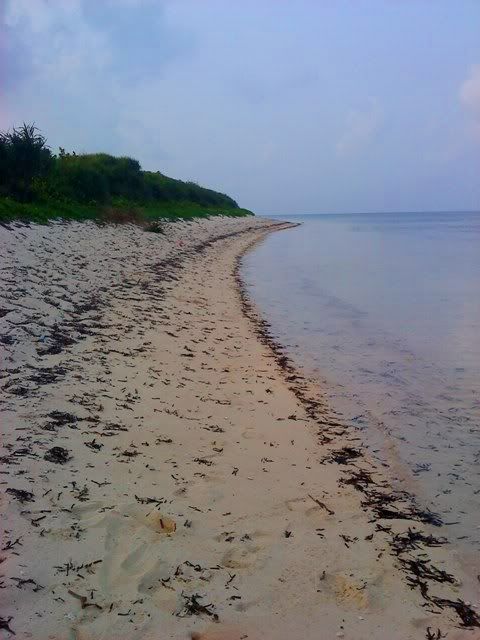 and a bit powdery too!
He also told us that there's really not a soul in the island, except for the occasional fishermen who docks in the middle of the night. That's when the fact actually sunk in to us, most especially to Liz. She had second thoughts on whether we will indeed stay on the island. She asked me if we are really really sure… before Kuya Francisco left us. We'll here we are, we made our beds and we might as well lie on it.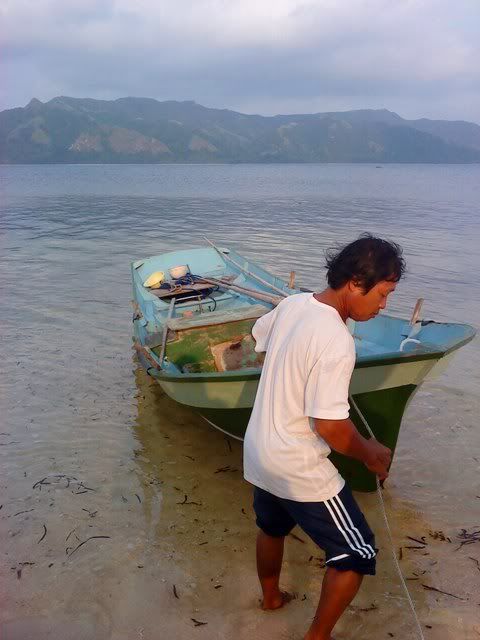 Kuya Frankie anchoring the boat
ang nawindang nung malamang walang ibang tao sa island….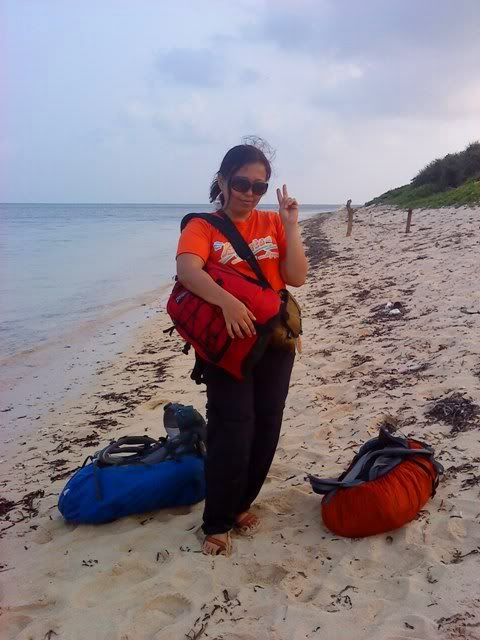 ang nagpatay-malisya, or hindi naintindihan yung fact na walang ibang tao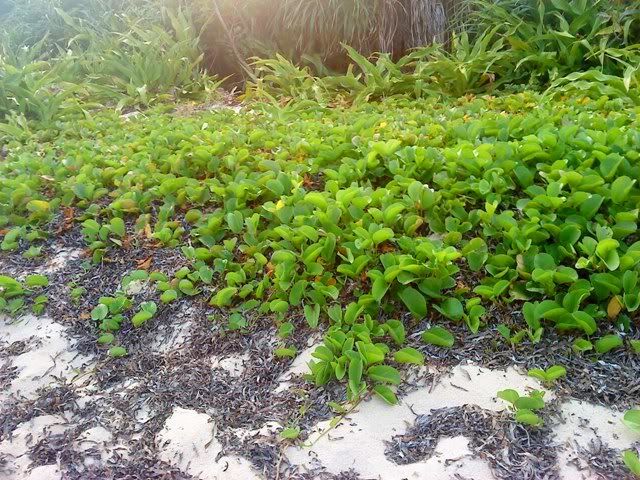 leaves by the shore… tahanan ng pesteng bampirang kulisap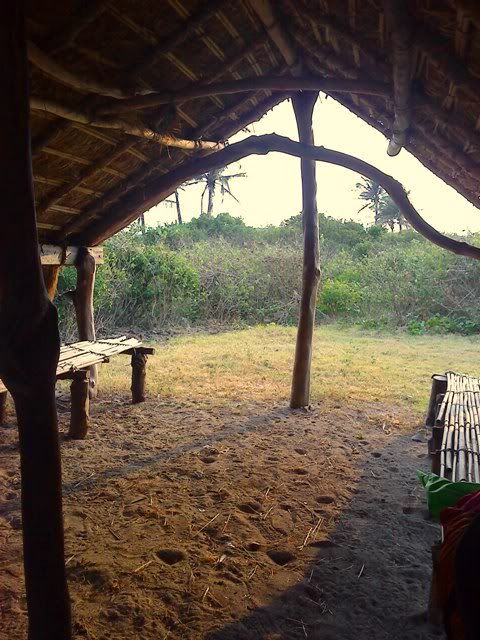 nakiramdam agad kung san magandang matulog…. lol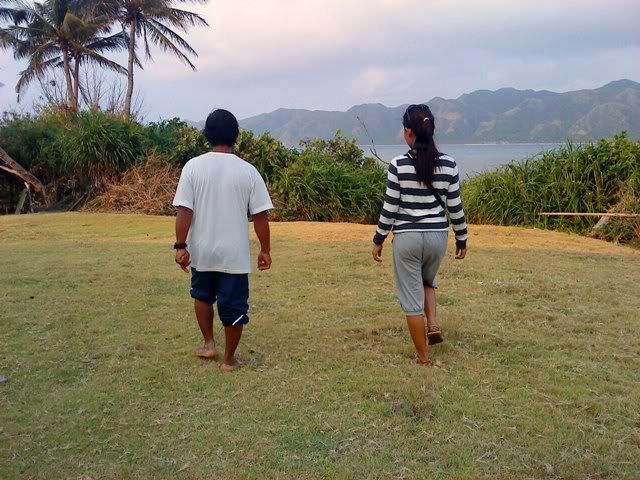 "kuya… balikan mo kami ha wag mo kme kakalimutan"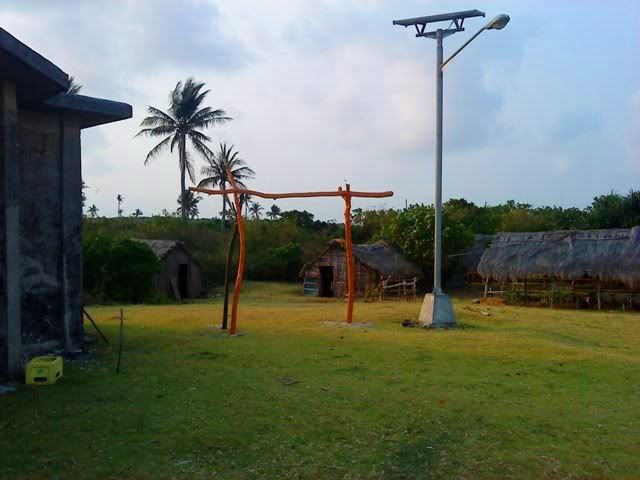 para lang playground
sure ba tayong magpapaiwan tayo?
I took a shower before it gets dark, and put on some off lotion to fend off insect bites. We couldn't decide which wooden hut to camp, as there was no decent shelter that has full cover, much more four walls. They're all cottage-like, open-air and very much short of our expectations. There's a stone structure at the middle, housing a patron saint statue. It's also not that habitable… so we decided to leave our things in a hut closest to the one and only solar lamppost in the island (which I think serves as its "lighthouse"). We also decided to camp out under that said lamppost, the grass are clean enough and we feel much safer under the lights of the lamp.
its getting dark na…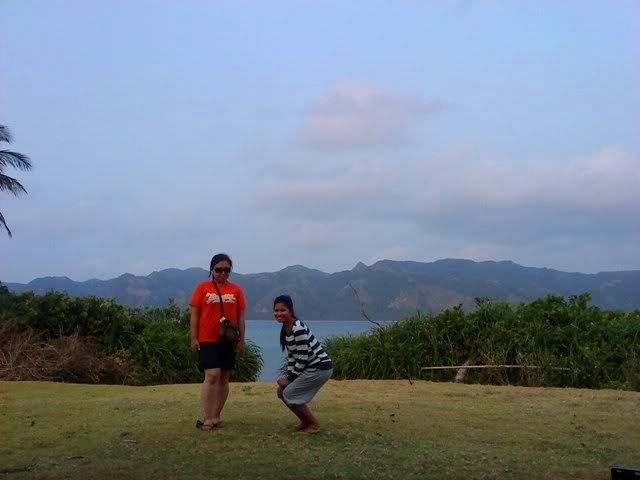 di nagkaintindihan sa posing hahaha.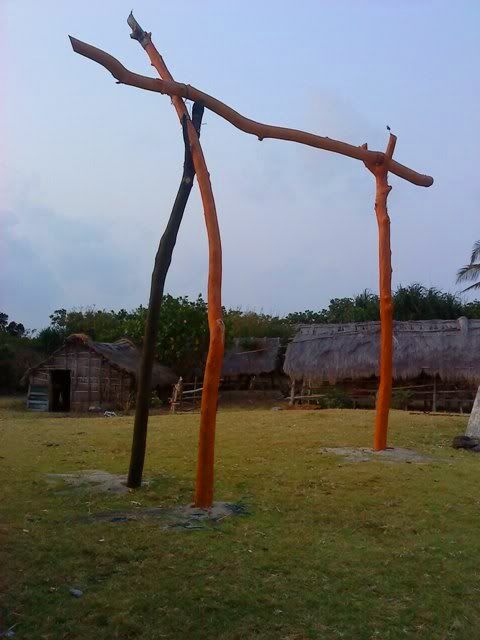 used in weighing the cow for the buyers
Dinner was of course, from our baon. Good thing I have bought a whole loaf of bread, and decided to bring a bottle of cheese spread. It's nice to dine al fresco, while listening to the music from my MP3 phone which alternates with the silence of the place, and the whistling of the waters. I even considered starting fire for some hot Milo.
our humble dinner: stuffed toy not included
As soon as my back hit the ground, I immediately fell asleep. Which is a good thing. And we were blessed with a great weather that night, for when I woke up in fears of an imminent downpour… I found that the sky was very clear. It's just the wind.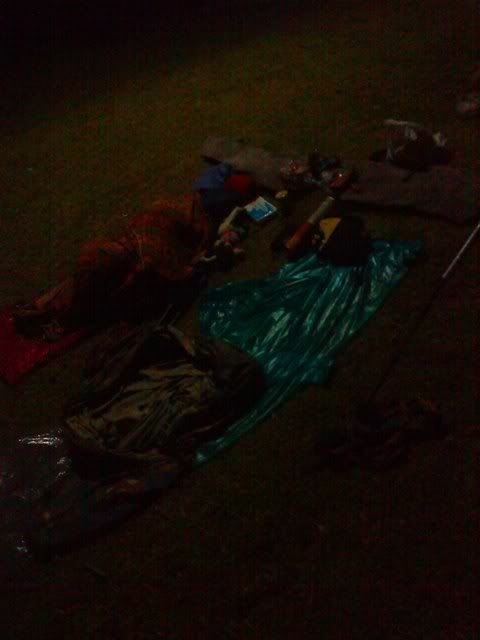 I slept with a crowbar beside me, paranoid much hahaha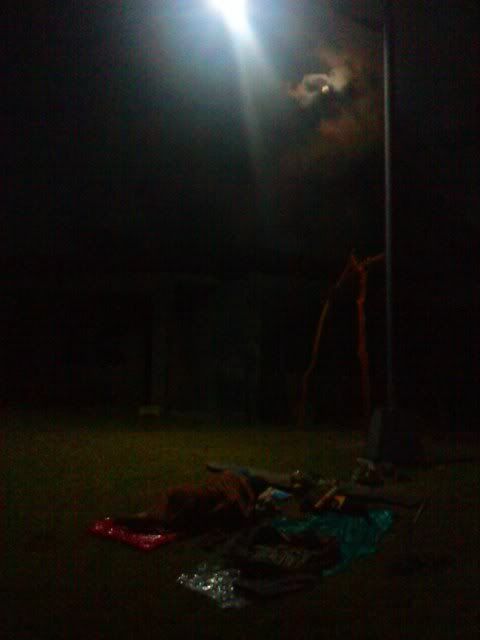 3am, while I write
THE ISLAND WAS OURS… BUT THE NIGHT WAS MINE.
The moon creep me out though. It's orange red and big as hell. It has a stunning reflection over dark blue waters. When I woke up around 3am, I was even more creep out when I noticed that it's heading west. My orientation of the heavenly bodies is that generally the sun rises on the east and sets to the west, opposite of the moon where it rises on the west and sets in the east. I had to double check my compass and indeed, it is setting down SW!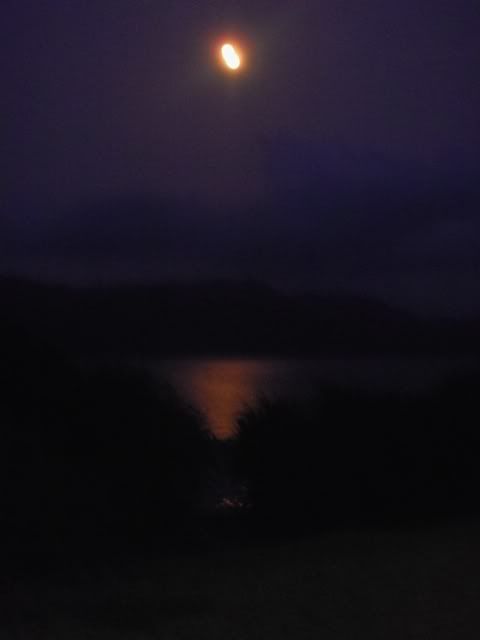 unedited: the sky was violet, moon was almost red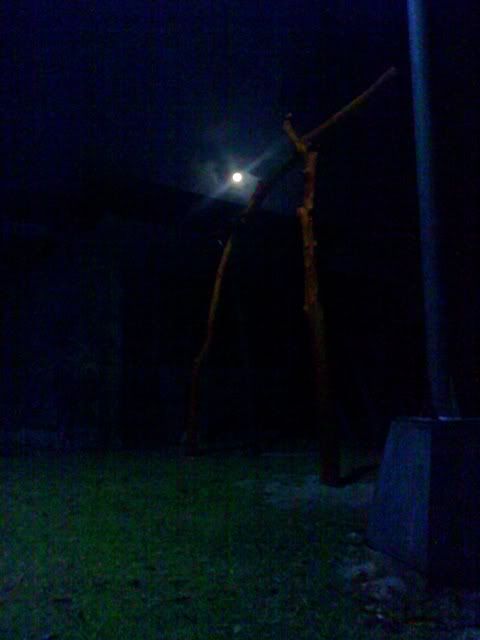 3am: you creepy moon… you!
Being a bit scared aside, I couldn't sleep. I was also a bit paranoid about wild cows wandering across the island. I expressed my intention earlier of traversing to the opposite side to witness the setting sun… but was told that I have to cross several kilometers of terrain not to mention dodging unwelcoming bulls. I went to sleep that night with a crowbar beside me.
Writing soothes my senses. So to pass the time, I wrote of our endeavors that day… carefully sprinkling some spices to make it a bit juicy. It's 3am, with the full moon smiling away to the west, all I could hear are water splashes. Everything is oh so quiet. I also took time to reflect, as this is what our vacation is all about.
good morning Sabtang!
Before I knew it there's already light seeping in all over the sky. We made it safe through the night! I ran to the shore braving those biting insects to catch the breaking dawn panorama of Sabtang island as viewed from Ivuhos.
Sabtang panorama:breaking dawn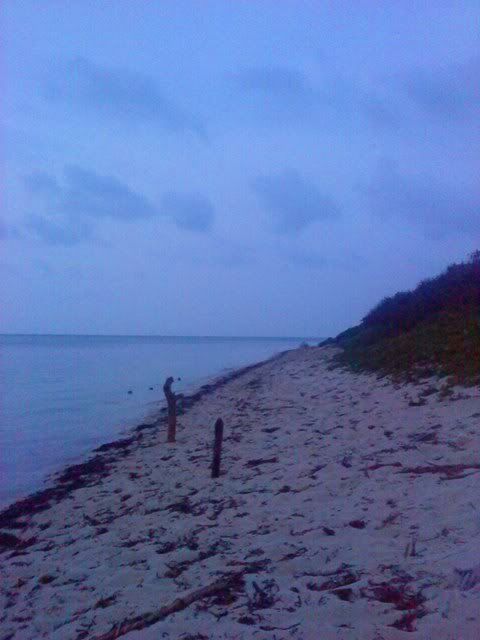 I dare yah… bite me!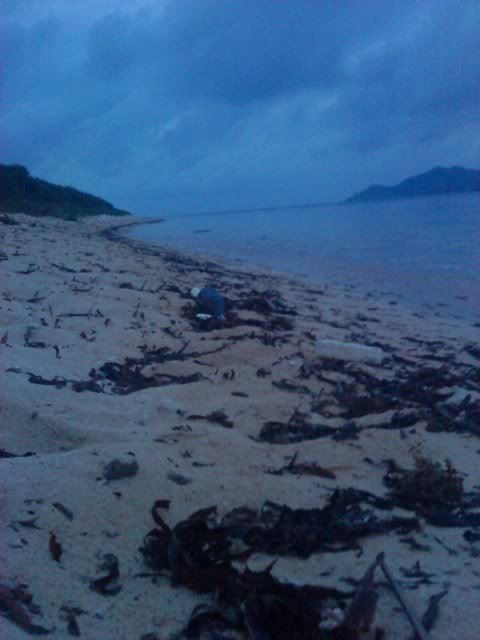 yipes, the insects made good at my dare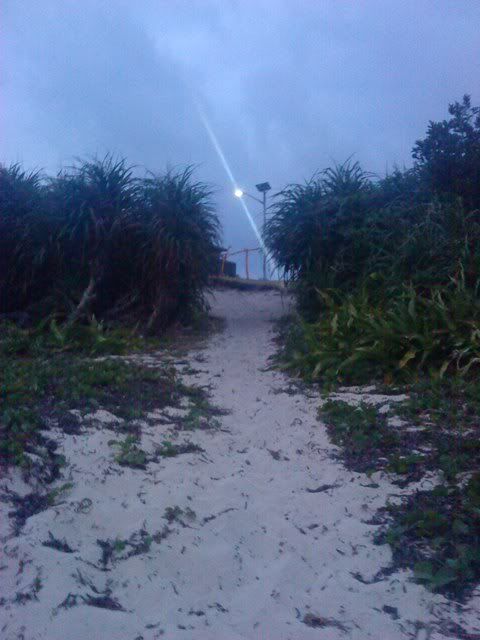 the plaza from the shore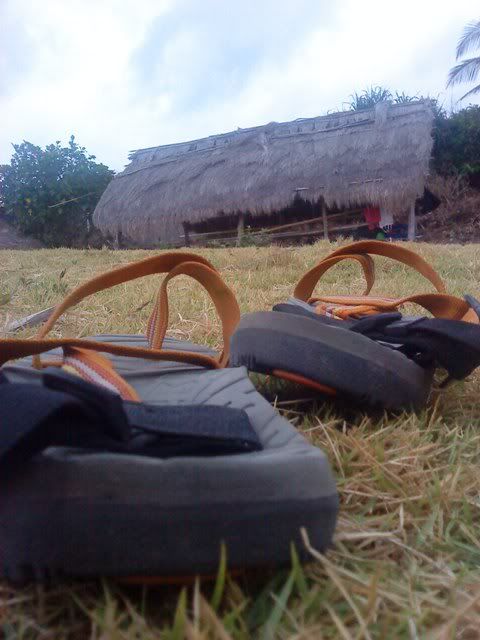 attempt @ ground shot
LESSONS LEARNED
Our boatman fetched us on time, around 6am. We left Ivuhos island a bit past half of 6am, with the oncoming shower and change in current. We were supposed to visit Dequey island but decided to skip the trip because it meant that we will brave the winds of South China Sea, and with that weather we were not that confident of a safe ride.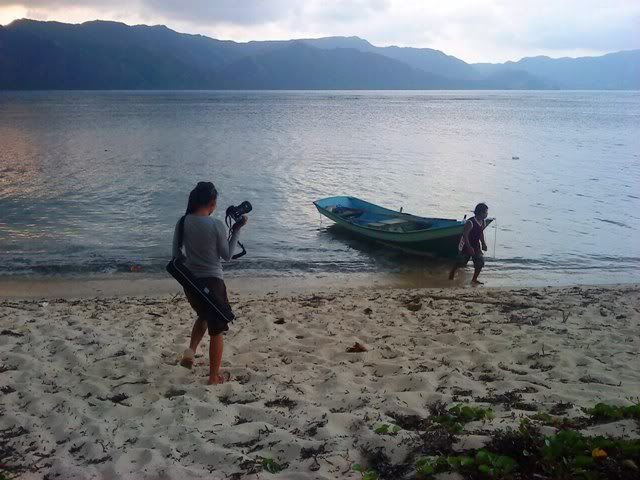 bye bye Ivuhos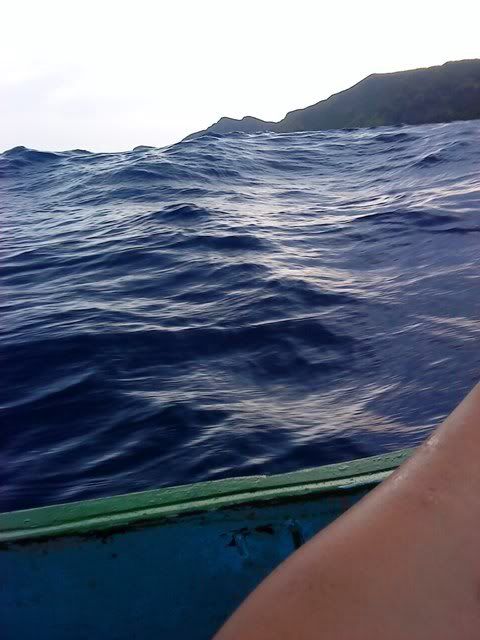 mistulang lalamunin ng tubig…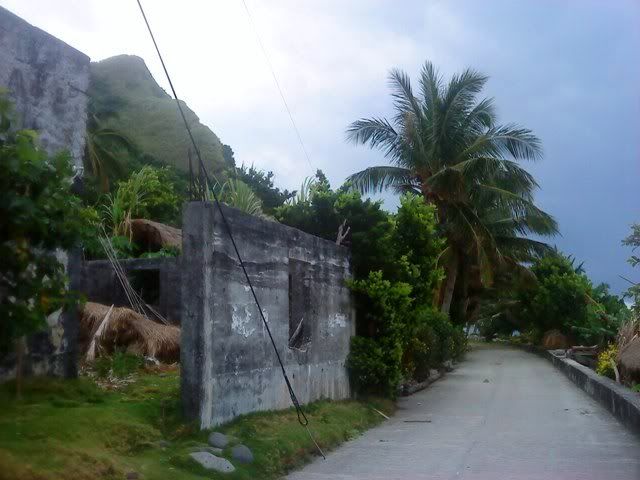 where's our sundo? Yaya? Yaya!!!!
We arrived at the Nakanmuan port only to find that our tricycle sundo is not yet around. Maybe he didn't get the message we left with Ate Beth. Good thing (maybe not that good), the funeral convoy from Sumnanga passed by just in time, so we managed to hitch a ride back to Sabtang centro. It's almost laughable that our face still white from all the creams and sunblock we applied as we hailed that first car of the convoy which carried the wooden casket. And not knowing that there's still a truckload full of living people behind, we were more than willing to share a ride with the non-living.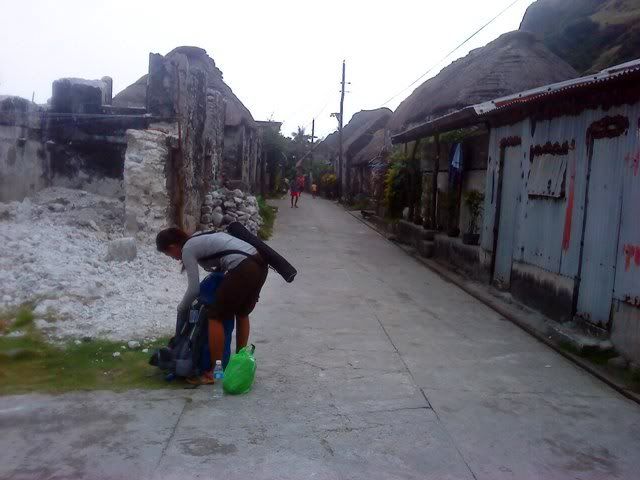 I should apply sunblock now na!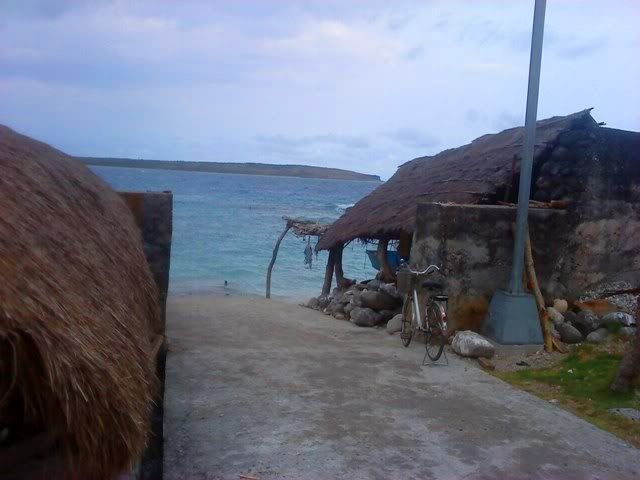 the sea calmed down after we crossed it: ang daya!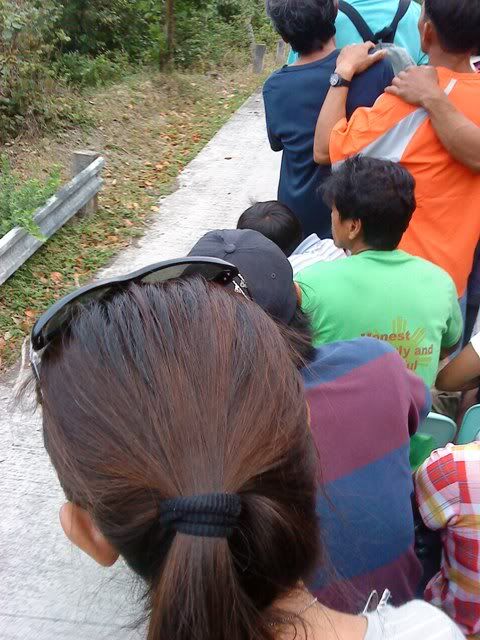 sardinas sa truck: hitchhikers can't be choosers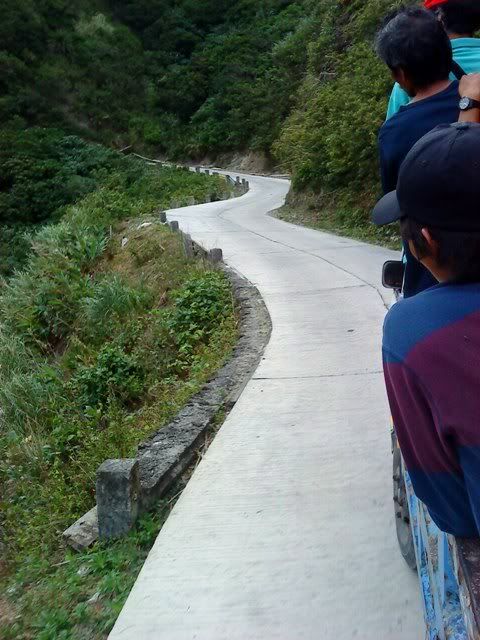 winding road ahead
In front of the second truck, we saw our friend Ingrid. It was just then that I understood her reasons for going home to her remote Batanes town after being away for almost 10 years. We had a little chat when we arrived at the centro, in front of the church. Appears that the one who passed away is an ex-vice mayor of Sabtang who is a native of Sumnanga….her grandfather.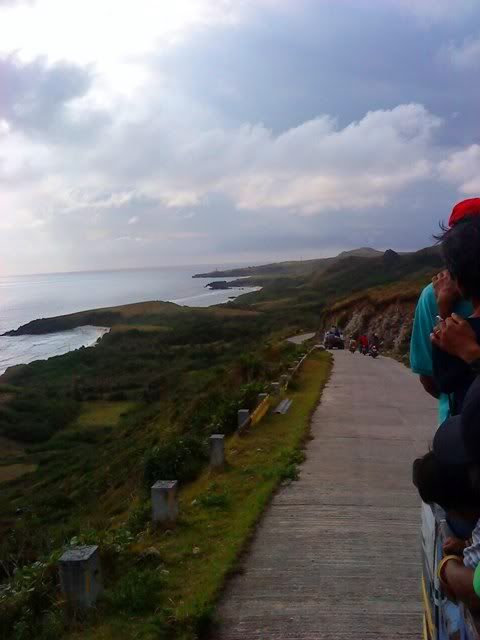 there's the kabaong and the rest of the convoy
She told us of the beauty of Sumnanga the day before, and we were a bit sad that we had so little time to explore all of Sabtang. But we promised ourselves that we will be back for more, each trip concentrating on exploration, one island at a time.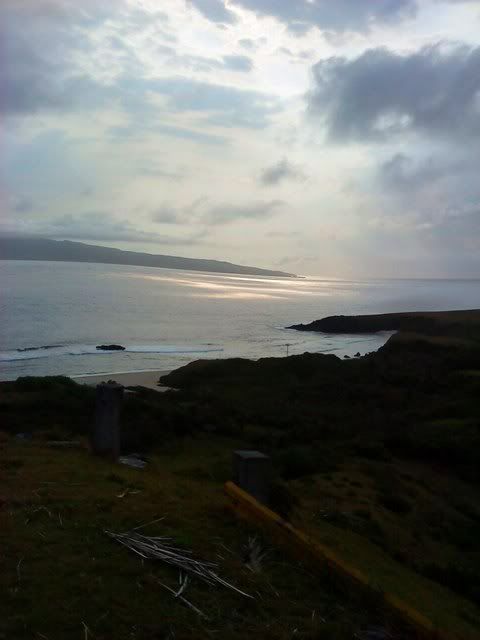 we would've stayed longer… =(
What I have learned from this short, half-witted trip? Ask first, in detail, before hopping on the boat…sailing to the seas… and letting the boatman abandon you on a deserted island with lots of cows, on a full moon.
"Wish Ko Lang" segment:
If anyone of you good readers are planning to go to Sabtang and drop by Nakanmuan, please be kind enough to bring some cheap compass for distribution to fishermen there. Our boatman told us that they are having a hard time with directions when the weather turned so bad that the signs they are depending on like the sun and the land itself is not visible. It's so hard to be lost at sea on a bad weather.
Author's note:
(1) I would like to thank the kindhearted Sumnanga locals on motorcycle for turning back to get the cellphone I left at the Nakanmuan port.
(2) What's really amazing is the water between Sabtang and Ivuhos, where the hue changes from light blue to green to blue green to deep blue in a blink of an eye!
(3) If ever you'll need a boatman to Ivuhos, look for Francisco Esperanza, he will be more than glad to assist you.
(4) I forgot to include that cow owners specifically raise them in Ivuhos, and there's an association of cow owners managing the place. The same goes with Dequey, but instead of cows, it is inhabited by goats. I just remembered a trivia about Batanes that there are more cows there than people in all the islands combined. =)