A: Age you made your first international trip
Four I think, to see a cousin in Japan… visited Disneyland. That trip became an adventure for all of us (TNT, deportation and all). That Japan trip lasted for a month, and costed me two notches down in the honor roll. And had I known that I would be this mountain climber hoolabaloo, I would have insisted climbing Mt. Fuji since at that tender age of 4, I was already mesmerized by Mt. Arayat.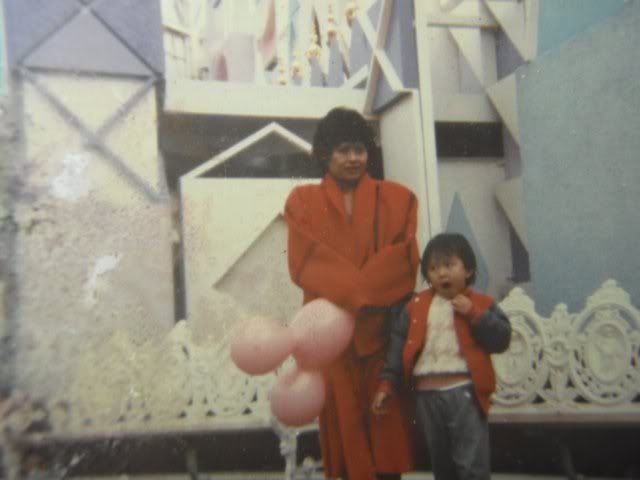 Tokyo Disneyland, 1986?
B: Best (foreign) beer you've had and where
Not a big international traveler, I just had my second international trip last month. And I have never tasted any spirits from abroad.
C: Cuisine (Favourite)
Philippine cooking is still the closest to my heart.
D: Destinations. Favourite. Least Favourite. Why.
My most favorite is a tie between Batanes, Iloilo and Camiguin. I feel a certain kind of serenity within me whenever I am at those places. They all make me feel that I am at home.
Least favorite place of course is Manila. That place is a tourist's nightmare.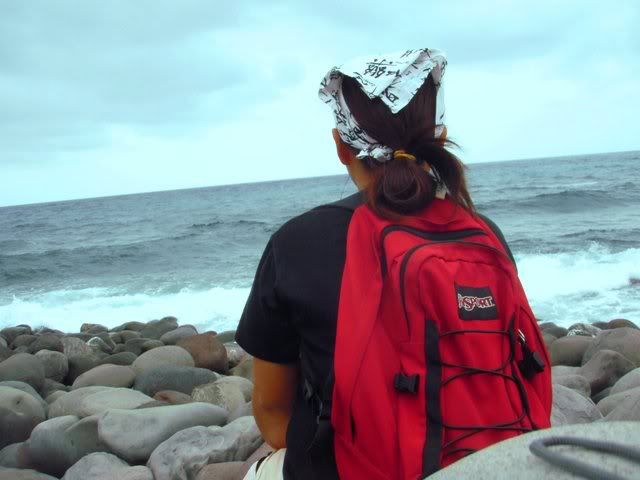 Valugan Beach, Batanes
E: Event you experienced that made you say 'Wow'
Mountain climbing….whenever I am at a mountains' viewdeck it's always a wow moment for me.
F: Favourite mode of transportation
Habal-habal. No competition there.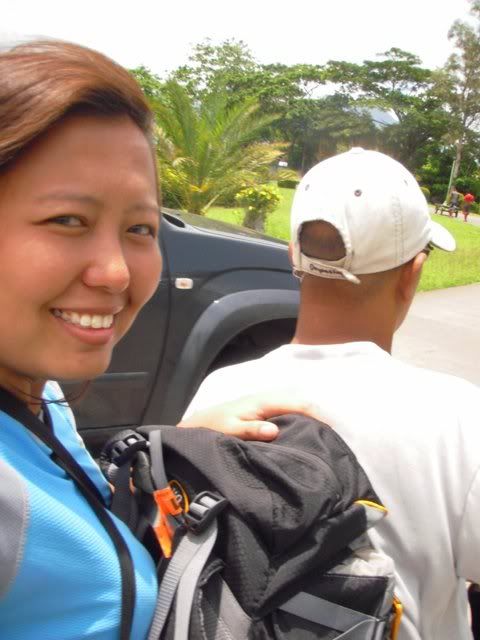 habal habal in CWC
G: Greatest feeling while travelling
Feeling of connection with the locals. I am most happiest when I sleep where they sleep and eat what they eat. I always try to get homestays whenever I do solo climbs.
H: Hottest place I've travelled to
Hell must be located in Tuguegarao. I went there for a daytrip and came home with jetlag that gave me migraines and almost a heatstroke… I missed my flight to Virac the day after because I was so sick that night.
Oh, another is Kalinga Province. The road travel was burning hot, especially if you cramp more than 10 persons in a van.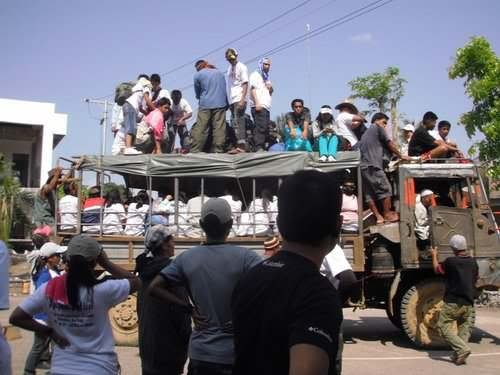 Optimus Prime (lols)...heading to Tanudan
I: Incredible service you've experienced and where
I was amazed during my Mt. Talomo hike, where my guide Sir Boyet fetched me all the way from the airport (nobody fetches me at the airport ever, well unless work-related), drove me in his motorcycle all over the city while I buy everything we need for the climb, driving me to the jumpoff, taking care of the climb permits, the basecamp accommodation. He even brought at fullpack on our dayhike, just in case. He brought me to the jeep terminal before he headed to church to attend mass with his family.
Sir Boyet of Davao
J: Journey that took you the longest
November 2009, I was unstoppable and I was so resolved in climbing that I went straight into Typhoon Peping wrath. I was bound for Bicol, and we met halfway in Quezon Province. The wind was so strong it almost toppled the bus and uprooted trees along the road. We were stuck on the road with other buses it got me scared that we might be going back to Manila because of impassable roads. My journey from Pasay colorum bus terminal (yes, I was on a budget) to Sorsogon was 10:30pm to 11pm the next day... making it nearly
24 hours.
stucked in Quezon Province
K: Keepsake from your travels
I am never a fan of souvenirs so most of the memories are just in the photographs. And I am not a fan of photos too. My most important keepsake are my blogposts.
L: Let down sight. Why and where?
Hill 120 in Leyte. I traveled 2 hours just to see a small hill, with 5-minute hiking time. Also, the mountain campsites trashed by climbers.
M: Moment where you fell in love with travel
I first fell in love with travel when I got my first taste of going solo on the road.
N: Nicest hotel you've stayed in
I have never had fancy accommodations, but I'd say Java Hotel in Laoag was the best I ever had. Good thing my officemate Ben booked a semi-luxurious room. The hotel had a pool, bar and I had breakfast for two since my room is a double. Every night I order a nightcap from the bar. Wifi is only available on the lobby. And oh, I was able to use the gym.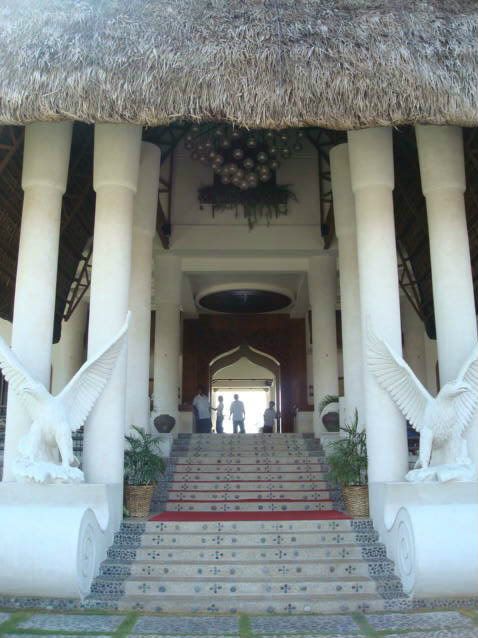 most memorable stays… *sigh*
O: Obsession. What are you obsessed with taking pictures of while traveling?
Food. And my foot.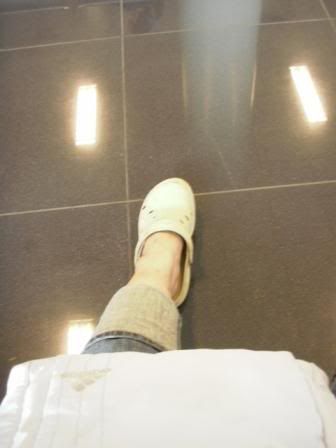 NAIA T3 foot pic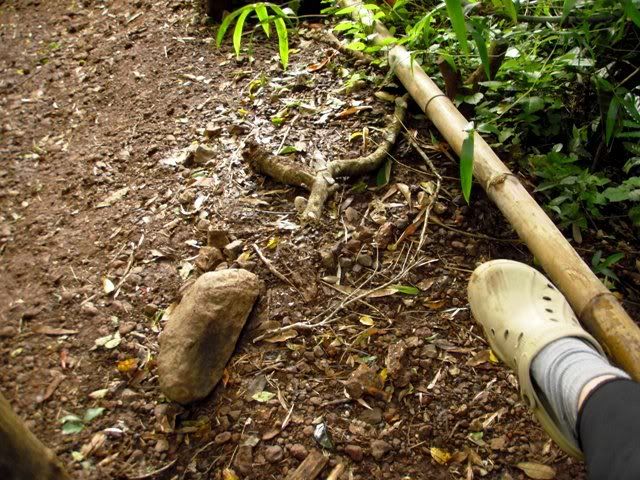 Mt. Maculot foot pic
P: Passport stamps. How many and from where?
Four. Manila and Kota Kinabalu
Q: Quirkiest attraction you've visited and where.
Apo Anno in Buguias, Mountain Province. Where me and a lady caretaker, as creepy as it was, personally took the mummy casket out of the tomb, opened it, the lady caretaker took the mummy out of the casket for me. For me this was a different kind of experience.
R: Recommended sight, event, or experience.
Ride habal-habal as much as you can. I specially love this experience whenever I go to and fro Ardent Hotspring at night. The wind in your face, slight rain shower, the darkness (with the creepy factor of flying aswang behind you). This is my most addictive experience in Camiguin. I never miss doing it whenever I am there.
S: Splurge. Something you have no problem forking over for while travelling.
Food, food, food. Decent accommodation (before I discovered hostels).
nice and cozy at EY Pension in Surigao del Norte
T: Touristy thing you've done
Booking a climb package and paying almost double the DIY will cost. For me nothing screams tourist more than tour packages.
U: Unforgettable travel memory
Every travel memory is unique and different. And as they say, you can never climb a mountain twice. But I have a trip that stayed in my mind more than the others. Year 2008, where I mixed business + pleasure… my first time in Boracay, and I practically lived in Iloilo and Bacolod for a month. Also, that Bakun trip with my then climb buddy Liz, that was a milestone in my travel history.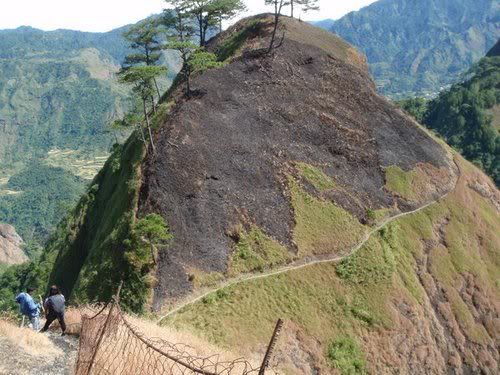 Mt. Kabunian in Bakun, Benguet
V: Visas. How many of them and for where.
None yet, but I might get one for single entry to Taiwan if I decide to pursue my trip this February.
W: Wine, best glass while traveling and where.
More like spirits. For my birthday last 2007, my cousin bought me a ticket to Cebu to stay with her and her Japanese family. One night in Cebu Midtown we decided to get drunk, I took 5 different spirits at the same time. As expected… I blew out chunks in the sink.
X: eXcellent view and from where
The most unbelievable sights I saw all belong to the Batanes group of islands. Unparalleled.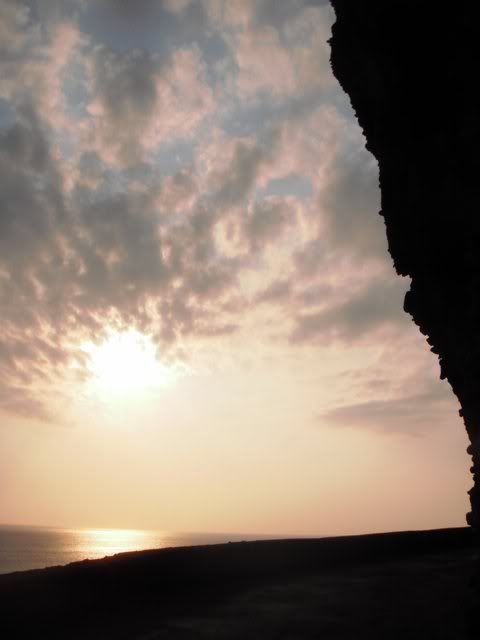 road curb in Basco, Batanes
Y: Years spent travelling
Four years
Z: Zealous sports fans and where!
Not a fan. 