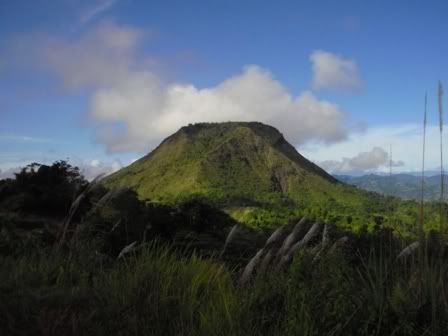 highest peak in Butuan City, Agusal del Norte (Mindanao)
Mount Mayapay is one of the lesser known peaks in the Philippines, but well renowned in its home in Butuan City. Standing approximately
675masl as per Butuan Tourism or 719masl per article in a newsflash
(http://www.newsflash.org/2004/02/ht/ht006118.htm), Mt. Mayapay is one proud local of Butuan City.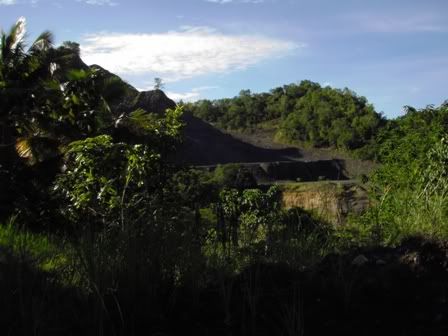 quarrying site
During my research about this mountain, it was subject to a lot of attention in quarrying protests. There's even an FB page dedicated to "Save Mt. Mayapay". It is already gaining popularity as an adventure destination in Butuan, there is already an adventure park/camp on the road to the mountains.
Mt. Hilong hilong range from afar
It is a popular camping destination for local trekkers due to the accessibility and the wide camping grounds. The trail is fairly trash-free. There are bantay-lasang locals who maintain the trail and the mountains.
wide jumpoff trail
Mt. Mayapay
Jumpoff: Brgy. Bonbon, Butuan City/Tower 1 (Sun Cellular)
October 23, 2011
Actual Itinerary
0630 Breakfast
0715 ETD Dottie's Place
0725 ETA Brgy. Bonbon junction, ride habal (php100)
0750 ETA Tower 1, inquire with residents, rest
0810 Start trek
0815 ETA Tower 2
0820 ETA Nursery
0850 Met a local, backtrail
0915 ETA Manong Enteng's house, rest
0925 Resume trek
0935 ETA correct assault trail (red ribbon), commence assault
0955 Rest on trail
1015 Resume assault trek
1045 Backtrail 15-20 minutes away from the summit
1145 ETA Lolo Simo's house, rest
1215 Ride habal-habal back to National Highway (php150)
1235 ETA National Highway, ride back to Dottie's Place
Tower 1 jumpoff
How to get there:
Brgy. Bonbon junction is along National highway, and there are lots of habal riders waiting for passengers. When you negotiate to be taken up to the towers, make sure not to give in to their asking price as some are asking for a whooping Php250 one way. You might also want to arrange a return habal ride. There are watersources along the way, and trail to the summit assault is marked by a red ribbon on the left side of the trail.
trail to summit (ps: I crawled up)
almost there: turning back point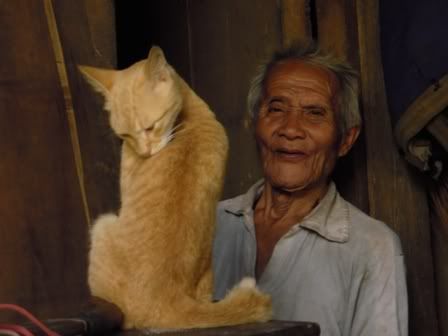 Lolo Simo and Miming
Trail Notes:
Habal ride: alternates with cemented and rugged road, passing by several mountain face being quarried
Trek from jumpoff to summit trail junction: fairly easy "walk in the park". trail is wide established.
Trek to summit: it gets steep and slippery for the trail is lined with pebbles and sharp loose rocks.
- If you have reached Kuya Enteng house (wide viewing deck with a hut and mud dug), then you have already passed by the summit trail.
- Bring umbrella because the trail is scorching even on a regular sunny day
- Don't use slippers, wear shoes and socks as much as possible
- You can hit Delta Discovery Park for a sidetrip. They have ATV rides, ziplines etc.
rollin' with mah ride….