KKIA 2
Kota Kinabalu City in Sabah, Malaysia has 2 main international airports….one is Terminal 1 which mainly serves Malaysian Airlines (there are other carriers though), and Terminal 2 which caters mostly to Air Asia and Cebu Pacific. Kota Kinabalu International Airport Terminal 2 or much popular as KKIA2 or Terminal 2 is much smaller than its counterpart, and is located opposite of the KKIA Terminal 1.
You have several options on getting to Kota Kinabalu city proper from KKIA2 which is roughly 9km away as I was told.
By taxi:
Purchase a coupon from the airport service booth inside the terminal for RM30 which will get you anywhere in the city proper. In going to Terminal 2 from the city, several backpacking lodges like Borneo Gaya Lodge (where I stayed) offers transport service for RM25/head, or you can hail a cab which will get you there at the same price… for the group.
taxi stand and private vehicles area alike
By bus:
During reasonable hours of around morning to late afternoon, there are buses dropping off passengers to Terminal 2 from Wawasan bus terminal. Fare is around RM1.5/pax. From the airport, the bus makes its round first in the Tanjung Aru area before heading back to the city proper. This ultimately heads to Wawasan Terminal, which is where you can find it in case you are heading to KKIA2 on your return flight.
By BAS mini:
This is a van that is converted to become a public commute, usually non-airconditioned. You can walk out of the Terminal 2 straight to Perdana Park where most of the vehicles are passing by. To be sure, walk to your right (while facing Perdana Park) in the direction of Tanjung Aru and wait in the bus stop. This was my mode of transportation to city proper after having my first Malay meal in Tanjung Aru upon arriving in KKIA2. It was a bit late at around 8pm already. This ultimately heads to Wawasan Terminal, which is where you can find it in case you are heading to KKIA2 on your return flight.
People visit this at night to jog
Terminal 2 has the following establishments:
Pre-departure Area
1. KFC (weird gravy)
2. Dunkin Donuts (RM2.80 apiece)
3. Famous Amos (selling by the grams)
4. Various souvenir shops (which sells cheaper metal keychains)
5. Food stalls selling Keyk Lapis (specialty of Sarawak)
6. Clothing shops outside (has winter clothes)
7. Restaurant serving local foods
8. ATM
9. Money changer (they change as low as RM10 to peso)
10. Internet shop/ Business Center (RM5/hr)
11. Dried seafood store
12. Malaysian Airport (avoid the grumpy lady – she is of no help at all)
13. Tourist Information (they will give you free maps of KKC)
14. Airport Taxi Service (coupon rate of RM30 to anywhere in the city)
KFC nation
ang hang-out ng mga walang Malay na information officers
Departure Area - International
1. Duty-free Store selling PX goods (mostly chocolates and candies)
2. Coffee shop (sandwiches and coffee)
3. Souvenir shop
Airport Procedures:
1. Scan your baggage before heading to check-in counter.
2. Proceed to check-in counter of your airlines (only one bag is allowed for hand-carried items that will be stowed in the overhead bin)
3. Proceed to the Departure area (leftmost of the check-in counter)
4. Final scan of the hand-carry baggage (security officers will ask for passport so have them ready)
5. Queue on the immigration line for "Foreign Passport" holder
6. After Immigration procedure, go straight to the departure area… passing by the check-in monitoring of your airline carrier (they will check your seat number)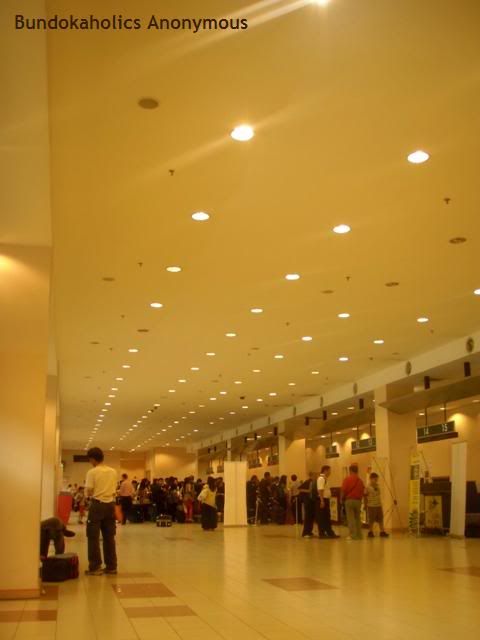 Air Asia is jampacked; while Cebu Pacific opens 3 hours before the flight sked
This was my first out-of-the-country trip on my own, my last being a visit to Japan when I was 4 years old. I was at lost as hell the first time, but having experienced the whole shebang of the Immigration and stuff, I guess I became more confident as a traveler….feeling a bit of a grown up as I hold tight to my passport as if my life depended on it.
Note: There are no travel tax or terminal fees being collected here.