After touching down at Basco Airport in Batan island one fine Sunday morning of April 17th, I was more than famished but we prioritized searching for stores that sell butane gas. Sad to say that they only have lighter fluids in Basco.
We doubled the task by looking for potential eats before heading out to Ivana for the boat ride to Sabtang island. We arrived at the airport a little to 8am, and my last nom was more than 3 hours ago. We passed by the green establishment with curtains on the way to the corner of National Road and Abad St., and while waiting for the jeep we decided to fill our tummy first.
at talagang may logo si Kuya, hahaha.
We entered that curtained door to the tune of the classics on the boombox characteristic of a Sunday morning. The town is a sleepyhead, and given that it is Sunday, we were lucky to find Kuya Marcial's lugawan open for breakfast.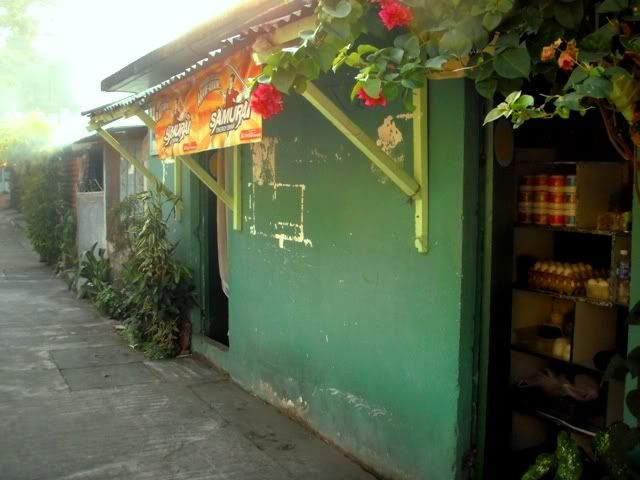 street view from the National Road side
Kuya Marcial is of Manila/Cavite descent but he chose to live here with his second wife who is a native of Itbayat island. He told us of the difficulty of life in Manila and so he chose to live in comfort here in Basco. They have properties in Itbayat island but they wanted to live in the capital and serve hungry people with their lugaw. We love chatting with Kuya Marcial especially his escapades back in the mainland (that's how they call the rest of the Philippines,lol). He eyes my stuff toy cat and I could feel he wanted to ask for it.
ilang take pa ang shot na ito, tawa ng tawa kasi si Kuya
Lugaw with laman is php20 while sans innards it's only php15. Boiled eggs cost php10 and he has softdrinks and juices if you want refreshments other than water.
nomnomnomnom
What I really liked here are the condiments. It's garlic all you want, and I especially love the spicy vinegar. He even provides chili powder. We've been here a number of times, since we are scrimping on food to get us by with the high cost of living in Batanes (on our first day, before Mt. Iraya trek, and the morning enroute to airport on our way back to Manila).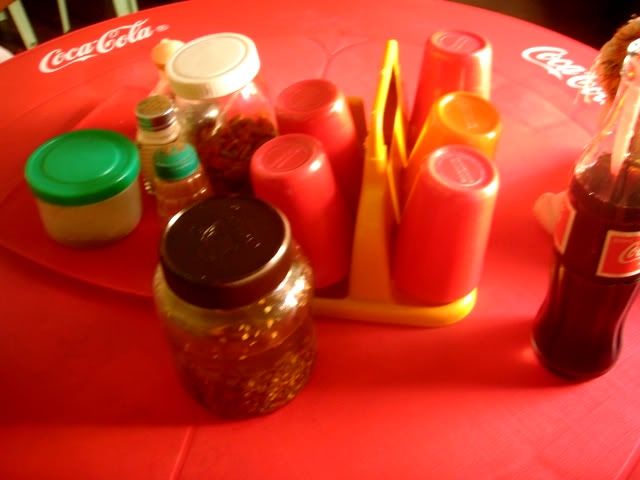 I'll miss the unlimited garlic and condiments
Too bad he doesn't serve tokwa. Sometimes he serves tepid lugaw so make sure to request that you like it served hot. But I know I am sure to miss the early morning sour and spicy lugaw.
Marcial Carillo's Lugawan
Abad St. nearing the corner of National Road
In front of Karl's Canteen
Basco, BATANES