I first came about this mountain destination as I hopped around the interwebs. I can remember dreaming about this peak for the longest time, going back as far as 2008. I kept copies of field reports written by UPM climbers and other narratives which concerned this mountain. I never expected that at an abrupt planning and blink of an eye I can make this happen. Indeed, one can make things happen.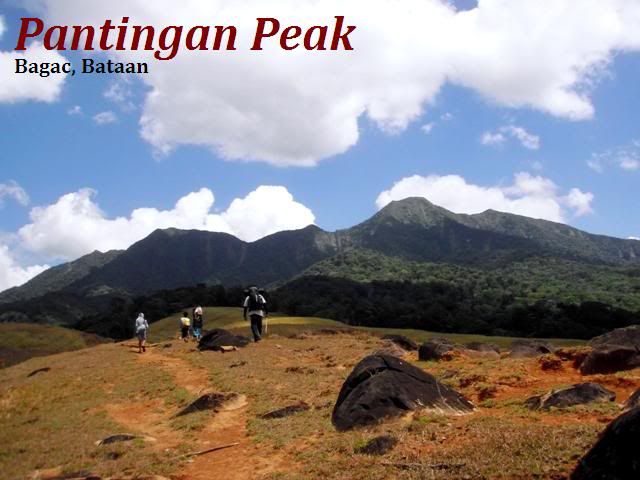 that's my dream out there:Mariveles Range as seen from Bagac side
Pantingan Peak (1388masl) – Mariveles Mountain Range
"A Climb to Remember" - Training Climb for Mt. Patukan
March 13-14, 2010
Bagac, Bataan

Participants: Melds Lim (Bundokaholics Anonymous), Maldz Fallar (Halhalin Mountaineers)

Kid guides: Dudong with Aeta tag-alongs Joel and Jeremy

"Special thanks to Sir Daile of Olay Mountaineers for the initial itinerary I used before I came up with my own, and for responding to my queries."


Mariveles Mountain Range (in no particular order)
1. Pantingan/Banayan Peak – highest point
2. Mt. Mariveles Peak
3. Bataan Peak
4. Tarak Ridge
5. Vintana Peak
6. El Saco Peak


Ways to Tackle Pantingan Peak
1. Summit camp/3 to 4 tents (fullpack)
2. Subangan camp/1 to 2 tents - then 1-2 hours assault to summit (daypack)
3. eCamp (our IT)/1 to 2 tents - then 2-3 hours assault to summit (daypack)
4. Danny's gate camp/10 tents or more? - (last watersource) then 4-5 hours assault to summit (daypack)

*Lots of beach sidetrips in Bagac, so it is desirable to start early and camp at Danny's gate by 9-10am, then summit assault, back before nightfall on Day1. Early breakcamp and be at the beach by lunch on Day2.


ACTUAL ITINERARY

Day1 Saturday, March 13, 2010
0130 ETD Genesis Pasay for Balanga, Bataan (P205)
0420 ETA Balanga terminal, ride tricycle to Central market (P30)
0430 ETA Central market, buy provisions, breakfast
0520 ETD Central market, ride tricycle to Jeep terminal (P20)
0530 ETA Jeep terminal, ride bus to Morong (P43)
0610 ETA Bagac tower, photoops
0620 Ride tricycle to "Gabon" Sitio Duhatan, Brgy. Saysain (P100)
0645 ETA Gabon, register, repack, secure guides
0845 Start trek
0940 ETA Ilog
1015 ETA Nursery
1045 Lunch on last tree shade before Grassland
1200 Resume trek on Grassland (open trail)
1330 ETA Danny's gate, rest and secure water (last watersource)
1400 Resume trek
1600 Set camp and rest on last flat ground before Subangan (another campsite). This can accommodate at most 2 moderate-sized tents, hammocks can be set up here. Landmark is one big hole on the ground
1800 Cook dinner
2000 Socials
2245 Lights out

Day2 Sunday March 14, 2010
0430 Wakeup call, cook breakfast, breakcamp
0700 Breakfast
0745 Start summit assault
0820 ETA Subangan, rest
0835 Resume trek
1025 ETA Pantingan Peak summit, photoops, rest
1100 Start descent
1220 ETA Subangan
1300 ETA campsite, retrieve backpacks, rest
1330 Resume descent
1430 ETA Danny's gate, cook light lunch
1530 Resume trek
1600 ETA end of Grassland and start of forest/Nursery
1930 ETA Gabon, Aeta Community, dinner, washup, sleep-over @ Kuya Rey's house

Day3 Monday March 15, 2010
Return to Manila (due to the swarming bees attack incident, but normally you can descend on Day 2 and still go to a beach sidetrip afterwards)


Note:
- Please register first with the Brgy. Hall in Saysain before proceeding to Gabon, Sitio Duhatan. There is a military operation ongoing within the mountain so it is mandatory to inform the military based in the Brgy about your intent to climb.
- Last trip from Bagac Market to Balanga is 5:30pm. But you can take an alternate route like the one we used when we went to Bagac on day1, via Morong bus that is, alighting in Bagac Tower instead of Bagac market bus terminal.
- You can contact Rey Jimenez, local guide (09282609645). Best to call instead of text because usually they don't have load to reply. If Rey himself is not available to be your guide he can help to find you one. Kids can also serve as guide. Minimum guide fee is P500 for an overnight depending on the number of climbers.
- Buy your provisions in Bagac market since they have limited store supplies in Sitio Duhatan. They have liquors and 1.5L softdrinks.
- Cellphone signal (Smart) is present although-out the trail.